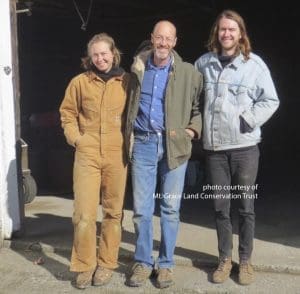 This fall, I had the privilege of celebrating the transfer and protection of a historic 5th generation family farm in Hinsdale, NH. I was honored to be asked to attend a celebration on the Pettengills' family farm – and to make few remarks in recognition of LFG's role in helping the family clarify its transfer goals and options over four years earlier.
In 2011 the Pettengill family contacted us on the recommendation of our friends at Mt. Grace Land Conservation Trust (MA). Through a series of family meetings and discussions, we helped the family consider alternatives to selling the property, and to map out how they might keep the farm in the family.
As described in the Mt. Grace press release, "In 2011, the family approached Mount Grace Land Conservation Trust to see if there was a way they could protect the farmland from development in the event they needed to sell it. Mount Grace introduced the Pettengills to Land for Good, an organization that helps farm families with complex issues of farm transfer and succession planning. After conversations with both groups, the family decided not to sell the farm, but to work with Mount Grace to conserve the land and pass the farm on to grandchildren Olivia and James Pettengill. "When my family first started working with Mount Grace, we thought it was likely we would have to sell our property, and we wanted to protect it from developers," explains Olivia Pettengill. "As our relationship continued we realized that there were more options and some of them would help us afford to stay on the property that has been in our family for over 80 years."
After four years of hard work led by Mt. Grace and involving a host of other service providers, the farm was both conserved and transferred. The conservation easement includes NH's first-ever Option to Purchase at Agricultural Value (OPAV). This will insure that the farm will transfer to farmers at its agricultural value, helping to maintain its accessibility to future farmers. Three generations of Pettengills now live and work on the farm. Olivia operates Wingate Farm with her farming partner Susie Parke-Sutherland.
The significance of this farm's multi-generational legacy is described on the Wingate Farm website:
"Olivia has been running around the fields, woods and barns that are Wingate Farm ever since she was a little girl. Running around the farm remains one of her favorite activities. Olivia grew up tending the vegetable gardens by the side of her mother, two grandmothers, and great grandmother. When she stumbled upon farming later in life, it was no surprise that she felt at home.
In 2012, after working on various farming operations, learning about hay, vegetable and flower production, as well as small animal husbandry, Olivia moved back to Wingate. Much of Olivia's passion for farming goes hand in hand with the desire to support her family and maintain the farm for the generations to come. She is thrilled to be working with her farm partner, Susie, and loves nothing more than watching the chickens enjoy a stretch of lush green pasture."
Olivia and Susie use organic practices to farm 700 pastured laying hens, hundreds of broiler chickens, forest-raised pigs, and diversified vegetable and flowers. They sell at two local farmers markets and have an egg share program with two nearby farms.  
"… we are facing many of the challenges of young farmers trying to run a sustainable farming operation. Even with a generous background of hands-on farm experience, land and/or money are essential resources in being able to start up a successful and sustainable farm business. We are incredibly fortunate to have access to this land…" Olivia Pettengill
This success protects the agrarian heritage of Winchester and Hinsdale, increases local food access, and strengthens the rural economy. It also establishes a new tool for promoting farmland access in NH.
We know that it takes a team to successfully transfer or access farmland today. But it's especially rewarding to be part of a team of advisors – and to work with a family – that has the commitment and creativity to see a new generation take over the farm. The Pettengill's story illustrates one trajectory for our work, and how important a supportive community is to making farmland access happen across the generations.