Shemariah Blum-Evitts, Program Director
Cara Cargill, New Hampshire Field Agent
Mike Ghia, Vermont Field Agent
Jim Habana Hafner, Executive Director
Kate Kellman, Communications and Program Coordinator
Lisa Luciani, Communications Manager
Jan Mackey, Business Manager
Will O'Meara, Connecticut Field Agent
Kathy Ruhf, Senior Advisor
Abby Sadauckas, Maine Field Agent
Jason Silverman, Massachusetts Field Agent
Katie Steere, Rhode Island Field Agent
Shemariah Blum-Evitts, Program Director. Shemariah is a farmer, regional planner and project manager. She was the founder and Program Manager of New Lands Farm with Ascentria Care Alliance from 2008-2015. The program, which she initiated and built in collaboration with community partners, offered training and land access to new American farmers in Central and Western Massachusetts seeking community gardens, farming enterprises and technical assistance. Shemariah studied land use and agricultural planning while gaining her Masters in Regional Planning from UMass Amherst. Her thesis developed a foodshed assessment model to map current and potential working farmland and farmland capacity. She believes strongly in the importance of working farms. Since 2004, she has been working on and managing farms in GA, TX, CT and MA. She operates her own small-scale, kosher, pastured poultry operation with her husband on their home farm in South Deerfield MA. Email shemariah [at] landforgood [dot] org
Cara Cargill, New Hampshire Field Agent. Cara spent 16 years managing large horse farms and teaching lessons to both recreational and competitive riders. With a graduate degree in Mediation and Conflict Studies (Woodbury Institute at Champlain College) and extensive training as a mediator, Cara has worked with the New Hampshire Agricultural Mediation Program (NHAMP) as their Outreach Coordinator since 2013 – and continues in this role. As a service partner, Cara participated in LFG's series of land access educational events for new and beginner farmers in New Hampshire. Cara fully appreciates the challenges of accessing affordable, quality farmland. She spent several years searching for farmland after deciding to move back home to New Hampshire. Cara is excited to help connect farmers looking for land with landowners that understand the benefits of having their land in agricultural use.  Email cara[at] landforgood [dot] org
Mike Ghia, Vermont Field Agent. Mike was a beginning farmer and land seeker from 1997-2007. Now he farms part-time while working as a farm consultant through University of Vermont Extension and the Women's Ag Network.  Mike also works through the Vermont Farm Viability Program as a Farm Business Planner. He coaches beginning farmers on farm and tenure issues and financial planning and assists families with inter-generational transfers.  His expertise includes grazing planning and soils. Email mike [at] landforgood [dot] org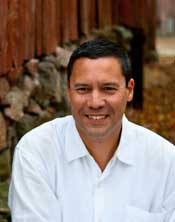 Jim Habana Hafner, Executive Director. A native of western Massachusetts, Jim has over 25 years experience in program development, outreach and research in the fields of international agriculture, community development, and public health. Jim has served as Land For Good's Executive Director since 2015, and Deputy Director 2013 – 2015. Prior to joining Land For Good, his work with farmers, non-governmental organizations, activists, and researchers focused on land tenure, conservation farming, agroforestry and watershed policy, primarily in the global south. He has picked cloves and coffee in Indonesia, led agricultural trade missions to Eastern Europe, and worked to prevent child abuse. With graduate degrees in International Agriculture (M.S., University of California-Davis) and Natural Resources (Ph.D., Cornell University), Jim has also taught and advised students in environmental studies, soil science, and geography at universities on both coasts. He and his family enjoy their local asparagus, glass bottled milk, and CSA shares in Hadley, MA. Jim is thrilled to be leading an outstanding team of professionals and farmers, working with farmers, landowners and allied professionals to improve the farm viability and land security of farmers across the generations, and to build more just, equitable and resilient food systems. Connect with Jim on LinkedIn. Email jim [at] landforgood [dot] org 
Kate Kellman, Communications and Program Coordinator. Kate and her husband moved to Amherst MA because he was an aspiring chestnut farmer. They knew that accessing land was likely in their future. As an entrepreneur, Kate's background is in community outreach, digital marketing, and events management. Immersing themselves in their community and joining a local community supported agriculture (CSA), Kate deepend her love for farm fresh food and seasonal living. The natural abundance of New England sustains and inspires her, and she is excited to bring her creativity and relational approach to outreach and engagement to Land For Good. When not supporting communications at Land For Good, you can find Kate in her Amherst studio running Of Note Stationers, a mindful communication business she co-founded in 2014. Email kate [at] landforgood [dot] org
Lisa Luciani, Communications Manager. Lisa brings over 25 years of marketing communications experience in the nonprofit sector. From outreach marketing to graphic design and digital media, Lisa enjoys the creative elements of her role. Her innovative outside web design work has received national recognition and honors. Her passion for nonprofits is evident in her professional life and private volunteer work, helping nonprofits fulfill their goals and realize the benefits of sound marketing strategy. A New Hampshire native, Lisa recognizes the value and beauty of our natural landscapes while supporting local food sources and healthy eating with her family. Lisa's skills are instrumental in building and leading an emerging communications program for Land For Good. Email lisa [at] landforgood [dot] org

Jan Mackey, Business Manager. Jan's keen interest in nutrition and its effect on health began as a teenager. Her concern with the impact of chemicals used to maintain freshness during food shipment underscores the importance of locally produced food. Being a part of Land For Good gives Jan the opportunity to have a small part in keeping food sources close to home and her community healthier. She is a Certified QuickBooks Pro-Advisor and has worked in bookkeeping for 15 years. Email businessmanager [at] landforgood [dot] org
Will O'Meara, Connecticut Field Agent. Will's farming roots go back to high school on Waldingfield Farm in Washington CT, where he currently serves as assistant manager. He received his bachelor's degree in Sustainable Food and Farming from UMass Amherst, where he spent his time on the UMass Student Farm crew while also soaking up as much knowledge and experience as he could at the many farms of the Pioneer Valley. Will serves on the Steering Committee of The New CT Farmer Alliance, a chapter of the National Young Farmers Coalition that brings Connecticut's beginning farmers together to identify and advocate around common challenges and opportunities. Will is excited to serve his agricultural community and carry out Land For Good's mission in Connecticut. Email will [at] landforgood [dot] org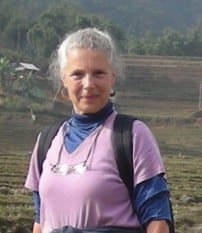 Kathy Ruhf, Senior Advisor. Kathy began LFG's work on farmland access, tenure and transfer in 2004, when there was scarcely any recognition or regional resources on these topics. Over the ensuing decade, land access became an issue of priority concern among all farm and food system stakeholders in New England and nationally. Kathy most recently served as Executive Director (2013-14). Kathy is a nationally recognized leader in farm entry, succession and tenure. She has co-authored guidebooks, managed projects, led workshops and worked closely with farm families on these topics. She served as co-director of the New England Small Farm Institute for 17 years, and on the USDA Advisory Committee on Beginning Farmers and Ranchers for six years, and chair for two. Kathy coordinated a regional network, the Northeast Sustainable Agriculture Working Group (NESAWG) from its founding in 1992 until late 2012. She continues to work and write on farm and food policy as a NESAWG Senior Fellow. Kathy has Masters degrees in Administration (University of Massachusetts) and in Natural Resource Management (Antioch/New England). She lives and works in Belchertown, Mass. Email kathy [at] landforgood [dot] org

Abby Sadauckas, Maine Field Agent. Abby is a farmer and agricultural service provider. She and her fiancé, Jake Galle met at Vermont College of the Fine Arts where Abby earned an MFA. Abby and Jake run Apple Creek Farm. The farm produces MOFGA certified organic, grass-fed beef, goat and lamb, as well as certified organic eggs and poultry (broilers, geese and turkeys). They market their products year-round in nearby Brunswick at farmers' markets. Abby is a long-time collaborator of Land For Good, as well as a former organizational and farmer-client. Her professional work combines her experiences as a new farmer with her work as an agricultural service provider. Abby acts as the course facilitator for MOFGA's Farm Beginnings, a farmer-led, community-based whole farm planning course. She has worked for the University of Maine Cooperative Extension as the manager for a project focused on improving relationships for farm success. Abby is a board member of Bowdoinham Community Development Initiative (BCDI) and serves on the steering committee of Slow Money Maine. Email abby [at] landforgood [dot] org
Jae Silverman, Massachusetts Field Agent.
Jae has had a lifelong passion for agriculture, particularly surrounding forage production and equipment operation. He owns and operates Windrow Farm in his hometown of Conway MA, producing hay and focusing on grass-based farming systems. A UMass Amherst graduate, he was formerly the farm manager of the UMass Student Farm, and has a strong commitment to agricultural education. As a first-generation farmer, Jae has witnessed the struggles of land access and farm succession first-hand and is eager to contribute to Land For Good's mission while serving both the farmers and land of Massachusetts. Email jae [at] landforgood [dot] org
Katie Steere, Rhode Island Field Agent.
Katie's farming roots stretch back to her childhood where she grew up on her family's seventh generation dairy farm, which had closed down before she was born. She studied International Business at Northeastern University and Dublin City University before moving to Silicon Valley to pursue a career in marketing. It only took five years before her roots called her back to the farm. She quit her job, interned at Polyface Farm, and moved home, founding Deep Roots Farm where she produces pasture-raised meats, now on leased land. Between Rhode Island's rising farmland costs and the unfortunate nature of her family's farm succession, Katie became extremely passionate about farmland access and preserving farmland. She is thrilled to join the Land For Good Team to help build a successful future for Rhode Island farmers and our farms. Email katie [at] landforgood [dot] org