Update: RFP has now closed. Stay tuned for details about conference sessions at mainefarmlandtrust.org/event/access-2019
Share your strategies, skills & issues around farmland access. Submit a session proposal to the Farmland Access & Transfer Conference, the largest conference in the region focused solely on land access, tenure and transfer. Our Request for Proposals process is now open! Proposals will be accepted through Monday, August 19th.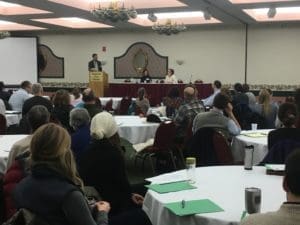 LFG's Executive Director, Jim Hafner, welcomes the group to last year's opening session. About 130 farmers and farm service providers attended the Farmland Access & Transfer Conference.
Maine Farmland Trust and Land For Good are excited to again co-host the 5th annual Farmland Access & Transfer Conference on November 18, 2019 in Augusta, Maine (save the date!). Last year's conference drew 130 farmers, policymakers, service providers and advocates and featured storytelling, skill-building workshops, and thoughtful discussion around farmland access and transfer challenges and successes.
We want to hear about your successes, program models, or case studies from across New England! The issues, strategies and skills shared at this conference have relevance far beyond Maine. Last year's conference sessions boasted themes and topics related to land access and transfer for multiple stakeholders.
Find more information and instructions here on how to submit a Request for Proposals (RFP) for consideration. The deadline for submission is August 19th.
A committee will review proposals and invite presentations.