Land For Good announces that Jim Habana Hafner will step down as Executive Director this summer after nine years with the organization. Jim joined Land For Good in 2013 as Deputy Director and became Executive Director in 2015 as part of a planned leadership transition.
Jim has played an integral role in the organization's growth and impact in New England and beyond. Under Jim's tenure, Land For Good significantly increased its regional visibility, reach, and partnerships, while strengthening all facets of its programs and internal operations. The organization doubled its budget and diversified its funding, with growth of individual donor support and fee-based income.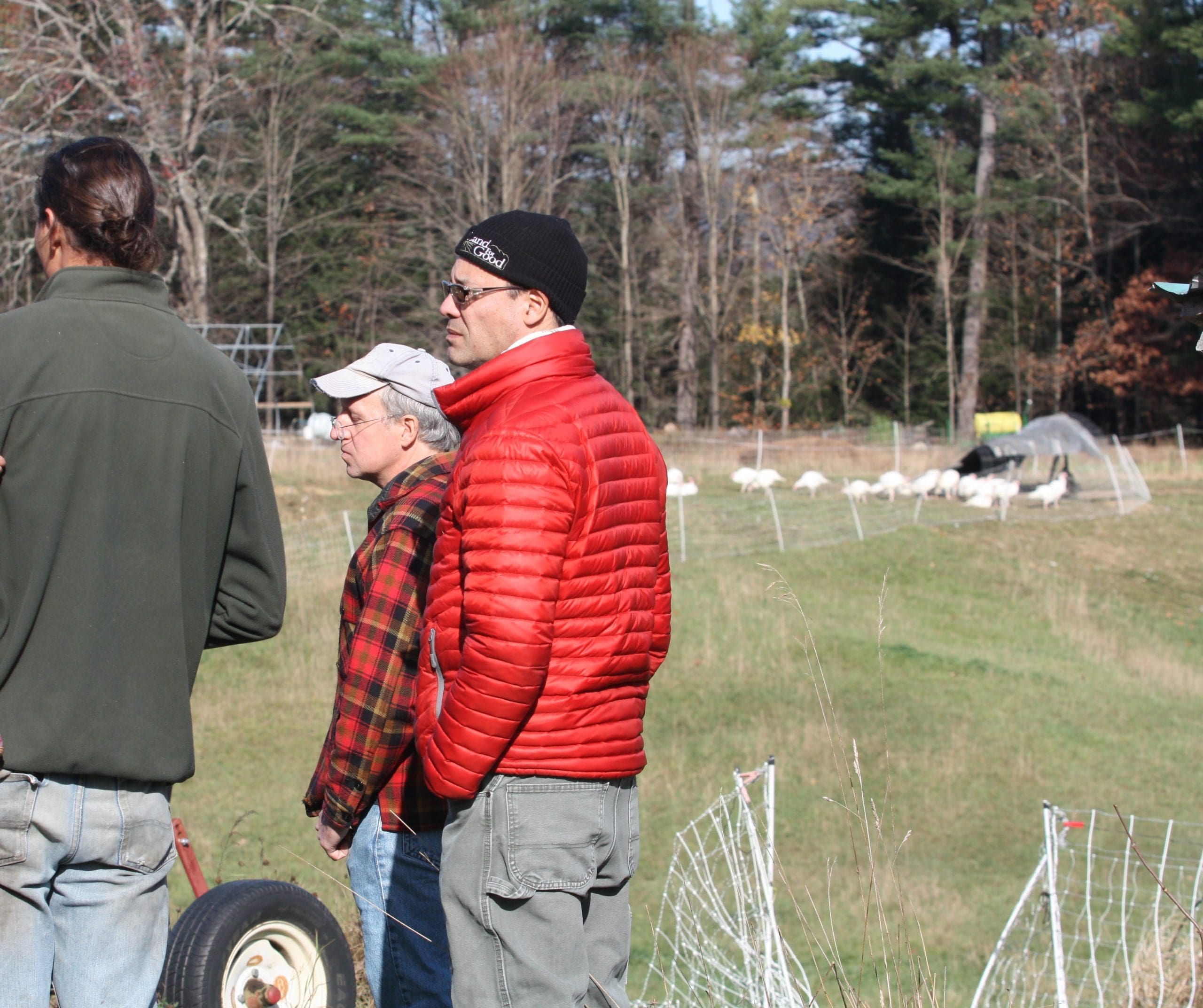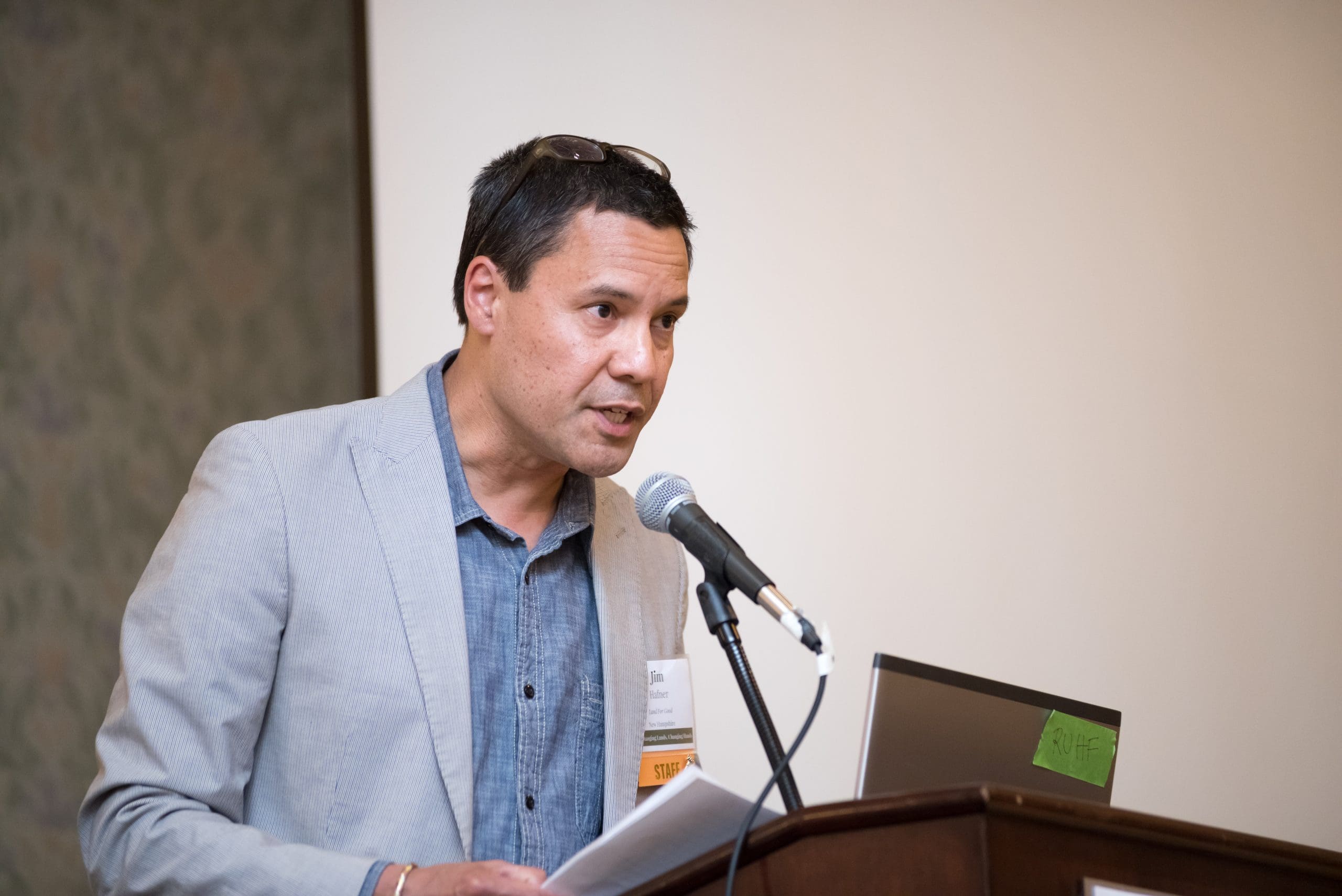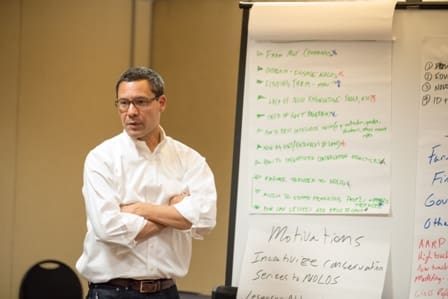 Jim Habana Hafner steps down as Executive Director after nearly a decade at Land For Good.
Since 2015 Land For Good's team has served thousands of farmers, landowners and professionals through advising, referrals, and trainings assisting and coaching over 1,300 farmers, landowners and farm families in New England, and responding to thousands of inquiries from across the country. Under Jim's leadership, the organization has trained thousands more farmers, farmland owners, agricultural service providers and other professionals, and community leaders on technical, program and strategic aspects of farmland access, farm transfer and succession.
Over this period, improvements to functionality and administration to New England Farmland Finder, the region's leading farm linking website has resulted in over 1,200 farm property postings in the past decade and over 4,000 farm seekers currently subscribed.
Jim increased regional and national advocacy presence on behalf of the region's farmers. Land For Good is a recognized voice on issues of farmland access, farm transfer, farm viability and expanding farming opportunities. The organization expanded its visibility and influence by hosting national events and advising across the country including organizations seeking support to replicate and adapt its approaches and strategies. Land For Good is also actively engaged in work centering equity, justice, and belonging into its programs.
I can't say enough about Jim's contribution to this organization," shared Andrew Marshall, President of the Land For Good Board of Directors and owner of Dorolenna Farm in Maine. "Under Jim's steadfast leadership, LFG has matured and flourished into the amazing organization that it is now. I wish Jim all the best in his next career move, and while we at LFG will deeply miss him, I know that our relationship will endure for a long time."
Land For Good is poised to move into a new phase of strategic impact and leadership, while continuing to fulfill its vital role for farmers, farmland owners, and allied farm service providers. The organization is less than a year into a three-year grant award through the USDA Beginning Farmer and Rancher Development Program (BFRDP). This is the organization's fourth highly competitive BFRDP grant.
When it comes to farmland access and transfer, LFG plays a critical role brokering conversations, strategic initiatives, and collaborations across the region. LFG has evolved to a multi-dimensioned organization that delivers trainings, champions best practices and policy, and supplies leadership on several regional and state networks committed to increasing farmland access," shared Jiff Martin, Sustainable Food Systems Extension Educator at the Univeristy of Connecticut.
The Board of Directors has been working for several months on a succession plan, and a committee has launched a search process for new executive leadership. Jim will assist with the transition, and his last day is tentatively July 15, 2022.
Our mission and programs are solidly held and firmly rooted in a deeply experienced and cohesive team, a network of strong collaborators and partners, and a committed and responsive Board," reflected Jim. "I am especially proud that we, as an organization, "walk the talk"' on succession planning by proactively and methodically preparing for a leadership transition for these past many months."
It's this commitment, collaborative spirit, and focus on stewardship that make Land For Good a source of inspiration and example for others.
I am so privileged and humbled to have played a role in this period of organizational strengthening and impact," shared Jim. "Working with and learning from our team, and having the support of an amazing Board, has been a gift. After nearly a decade, it's time for me to move on to new challenges. And, it's the right time for LFG to write its next chapter."
Land For Good's work will stay grounded in the diverse needs and experiences of farmers as it seeks its next Executive Director. If you have a passion for farming, farmers, and food systems, and are an experienced strategic leader, view the full job description and apply at landforgood.org/job.