Organizations from around New Hampshire are partnering to offer teams of coaches to New Hampshire farms and food businesses to help them meet their business and management goals.
Thanks to a grant from the Northern Border Regional Commission, administered by the Agricultural Viability Alliance, these organizations will offer teams of specialists tailored to farm and food businesses individual needs in Belknap, Cheshire, Coos, Grafton, and Sullivan counties. Interested businesses can get more information at the Vital Communities website.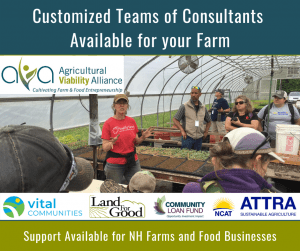 Because of the partnership, farmers and food business owners will be able to get the assistance they need in areas that include:
Business planning;
Whole farm planning, goal setting, and strategic decision making;
Financial planning, assessing financial health, and establishing financial benchmarks;
Record keeping;
Understanding land access, including purchasing and leasing;
Education around and road-mapping of transfer, retirement, and estate planning;
Assistance with farm succession and land tenure security;
Production planning;
Enterprise and cash flow analysis;
Branding and marketing assistance, including market channel analysis;
and more.
A team of coaches from across New Hampshire's nonprofit community will be formed to meet that client's specific needs. For example, a start-up farm needing help with a business plan might have a team of specialists who can help with whole-farm and financial planning. A food business looking to create a new product may have a team made of specialists who can help with an enterprise analysis and a marketing plan.
I went through a farm viability program myself," said Nancy LaRowe, farmer, Mighty Oak Farm, and coordinator at Vital Communities. "I knew how to raise animals, and the program helped me put the pieces together so that I could run a business as well. Farming can be an isolating career. So we're providing a support structure that can help farms and food businesses grow."
The group of nonprofits awarded this grant include Vital Communities, Land for Good, the New Hampshire Community Loan Fund, and the ATTRA Sustainable Agriculture project of the National Center for Appropriate Technology. Additional support is from other organizations who have also received funding from the Agricultural Viability Alliance: UNH Extension, Farm Credit East, Yankee Farm Credit, and the Center for an Agricultural Economy.
Grant funding for the project runs only through 2021 but each organization has committed to continuing to work together toward creating a farm viability network for the state.
Farms and food businesses can apply online now for coaching assistance. Successful applicants will receive roughly 15 hours of assistance (depending on need) during 2021. Applicants must commit to work with the coaches and share financial data.
For more information or to request assistance, please contact Beth Roy, Vital Communities Food & Farm Program Manager, by email or at  (802) 291-9100, ext. 105.
# # #