In August, we'll join over 70 partners to highlight New Hampshire Eats Local, a collaborative initiative of NH Food Alliance, the UNH Sustainability Institute, the NH Department of Agriculture, Markets and Food, and other key partners, for a month-long celebration of local food and farmers.
For the farmers who grow our food and steward our land, secure access to farmland is as critical as ever. Our local food system depends on the land security of our farmers.
Last year's market disruptions spawned crises and opportunities for farmers in New Hampshire, and across New England. Many farmers responded to a boost in direct-to-consumer sales and CSA shares, while others struggled to keep their businesses afloat or were forced to consider retirement. We responded to more farmers who were motivated to address farm succession, whether due to an urgent need or desire to retire and transfer the farm.
In New Hampshire, 90% of retirement-age farmers do not have a young farm operator farming alongside them. While this does not mean that these farmers don't have a succession plan, it does suggest that the future of these farms is uncertain. Farmers age 65 and older manage approximately 158,000 acres and own a collective $628 million in land and agricultural infrastructure, much of which may transfer ownership in the next 10+ years. (Gaining Insights, Gaining Access)
If where your food comes from matters to you and your community, then you need to be concerned about keeping the farmers who produce that food on the land in a way that allows them to invest in and plan for the future of their businesses — and keep that farm in farming for future generations of farmers," says Jim Hafner, Executive Director of Land For Good.
We served more hard-working farmers, exiting farmers, and new aspiring farmers interested in a career change during the past pandemic year. A strong local food system requires that we keep New Hampshire's farmland in farming and continue to grow viable farm businesses.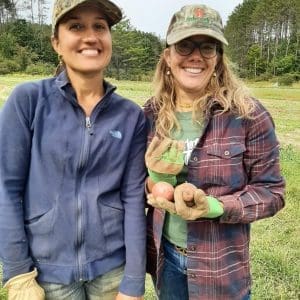 Andal Sundarmurthy (top left), is owner-operator of Nalla Farm, Wilmot NH, where she grows small scale vegetables, fruit, and flowers. Pictured above with her friend, Christine, who helps on the farm. (photo credit: Nalla Farm)
Every farmer's story of getting securely on farmland is different.
Farmers like Andal Sundaramurthy.
Andal's journey has been 10 years in the making. We first met Andal in 2010 at a workshop in which we discussed the benefits of leasing farmland before buying. Working as a farm employee, Andal could not envision saving enough money to ever buy land to start her own farm. Like most new farmers, Andal encountered several obstacles in her search for land on which to establish a farm long-term.
We worked with Andal and the landowners to establish a sound relationship and good communication, sharing goals and concerns, and identifying areas of agreement and tension. Andal also made use of our many resources to take action, like our online Build-A-Lease Tool. Andal signed a lease-to-own agreement on a 3-acre field in Wilmot, New Hampshire in 2020. She is now the owner-operator of Nalla Farm, growing mixed vegetables, fruit, and flowers this season. She looks to offer CSA shares starting in 2022.
Some farmers struggle with securing tenure, keeping their land farming, and planning for a successor. Data from the USDA 2017 Census of Agriculture measured a 10% decline in the amount of land in farms in New Hampshire. We can prevent the loss of farms and working farmland by helping farmers transition from farming in a way that ensures their legacy, provides support, and creates opportunities for the next generation of farmers.
Farm link programs, like New England Farmland Finder, help farm seekers and farm property holders find each other. A farmland owner or agent can post their property to this farm link program at no charge to get in front of over 4,000 subscribed farm seekers. We have begun working with the Boscawen Agricultural Commission to raise the profile of this farm link program in New Hampshire, in order to help connect farmers with farmland – and keep New Hampshire's farmland in farming. They are also collaborating with other agricultural commissions and agricultural groups to publicize these services.
We have an aging farm owner population, and it is good to have a mechanism for joining some of those wanting to retire from farming to young people who have the energy and enthusiasm to get into farming and just need a chance," explains John Porter, UNH Extension Professor/Specialist, Emeritus.
We continue to be inspired by the dedication of our farmers and the communities who support them. And we look forward to seeing you out on our farms and local farmers markets!
Learn more about New Hampshire Eats Local Month or follow @nheatslocal for ways to get involved.