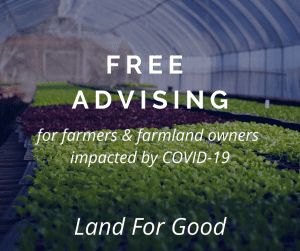 Go directly to COVID-19 Resources for farmers, farm supporters, policymakers, and more.
Are you a farmer or farmland owner in New England who has been impacted by the COVID-19 pandemic? You can receive FREE, in-depth technical assistance to access farmland, draft leases and other tenure agreements, improve landowner relations, or plan for your farm succession or transfer. All of us at Land For Good are committed to serving you through the difficult road ahead. 
One-on-one assistance for: 
Farmers

who want to communicate with their landlords on issues related to leasing or other agreements, such as establishing or renegotiating lease terms, rent alleviation, sharing maintenance/production costs, navigating conflicts and others;

Farmers

who want to start, revise or accelerate their succession or transition plan out of farming, including identifying a successor;

Farmers (active or aspiring)

who want to identify and assess suitable farmland for new, adapted or expanded operations and negotiate tenure agreements; and

Landowners

who want to support the local food system by making their farmland available to farmers.
To get free assistance, contact Land For Good as soon as possible:
Through our Opportunity Fund, LFG provides no and low-cost advising consulting services. We are able to offer additional in-depth services to farmers during these challenging times thanks to donor support and a grant from The Blueprint Initiative funded by the New England Food System Resilience Fund. The Resilience Fund is a joint effort led by the John Merck Fund, Kendall Foundation and 1772 Foundation to reinforce, restore, and promote the resilience of the region's food system in this time of unprecedented disruption.  
Also find COVID-19 Resources for farmers, farm supporters, policymakers, and more.
Please don't hesitate to contact us, if even for a referral to the right provider. We can get you the support you need to understand and access relief programs for agricultural and other small businesses available through established federal relief programs.