For retiring farmers, a farm transfer can take months, even years, to plan and complete. The transfer of John and Beth Haynes' organic dairy farm took nearly seven years.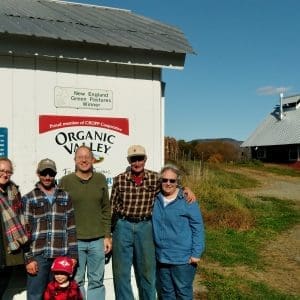 Top: Haynes Dairy Farm located on Moody Hill in Claremont NH; 3rd generation dairy farmer John Haynes; new farmers Morgan and Baird Swift, and their son, with John and Beth Haynes; Mike Ghia, LFG field agent on a farm visit to introduce the new farmers; Morgan, Baird, their son, Mike, John, and Beth after the families closed on the sale in October 2019.
John and Beth have owned Haynes Dairy Farm located on Moody Hill in Claremont NH since 1981 when they purchased the farm from John's parents. The farm has been in the family for 3 generations. As John and Beth prepared to retire, they realized that to keep the farm in agriculture they needed to take on the added step of identifying a successor to take over the farm. In 2013, they reached out to Land For Good.
John and Beth started working with Mike Ghia, one of our field agents, on goal setting and retirement planning. Mike has decades of experience and works on a range of farm business planning issues. He also coaches beginning farmers on farm and tenure issues, and, as a trained mediator, Mike assists farmers with both inter-generational and non-family transfers.
Mike helped John and Beth explore putting a conservation easement on the 154-acre farm that abuts the city-owned Moody Park. The property includes 69 acres of forest and has been described as "very developable." So, Mike connected them with the local land trust. The easement was purchased by Upper Valley Land Trust in 2016 and will prevent any future landowner from converting it into housing or commercial development (Haynes Dairy conserved). More than 105,000 acres of New England farmland have been lost or threatened by development over the past 20 years. New England has lost more than 10,000 of its dairy farms over the last 50 years. (Farms Under Threat, 2020)
John and Beth wanted to see their farm continue in the hands of the right successor," shared Mike. "Rather than waiting until age or health forced them to put the farm on the market, they wanted to be more deliberate and pursue transferring the farm as a turnkey business to a new farmer."
To identify a viable successor, Mike helped the Haynes' advertise the farm through New England Farmland Finder and Vermont Land Link, both part of the New England Farm Link Collaborative. Mike also helped get the word out through various state and regional networks. Our field staff connect with hundreds of beginning and aspiring farmers across New England through training, advising and partnerships.
Baird Swift was one of these farmers. Mike met Baird at an on-farm "pasture walk" in central Vermont in 2017. At the time, Baird was working for another farmer in Vermont. He and his wife, Morgan, aspired to operate their own organic dairy farm someday. After Mike arranged for an introduction Baird went to work for the Haynes that winter and moved to the farm with his family the following spring. Then, Mike helped both parties draft long-term leases in coordination with their attorneys—and, eventually, a phased farm purchase plan.
It's never too early–or too late–to start planning for this kind of major transition. By starting early and doing thorough planning, John and Beth, together with Mike, were able to identify a farm successor who had experience and shared their goals and values. The families closed on the sale and started the lease in October 2019.
John and Beth continue to reside in their house adjacent to the farm. Baird feels very lucky to have John nearby as a mentor. John and Beth feel very lucky to have found a successor that they like and can trust with their legacy of animal care and land stewardship. Dedication to an organic tradition and to growing food for the region keeps this dairy farmer optimistic, even amid the challenges facing dairy farmers nationally.
Both families are extremely happy with the outcome," shared Mike, "and they have grown to really care for and appreciate each other."
Thanks to Land For Good's support, and John and Beth's careful planning, a local dairy farm will continue to thrive and provide for the community. Our efforts were made possible in part by our funders. Dairy succession funding was provided early on by Clif Bar Family Foundation and Organic Valley's Farms Advocating For Organics with support from the Keep Local Farms Fund of the New England Dairy Promotion Board. This work also was supported in part by our generous individual donors and grants from USDA/NIFA Beginning Farmer and Rancher Development Program.
Haynes Dairy Farm is one of many farms that we work with every day; farms that are committed to sustaining and growing New England's agricultural and food system far into the future.
If you share our belief that local, sustainable farms are the foundation of our communities and regional food systems, please consider showing your support. If you or a farmer you know needs help with farm transfer planning, please contact us.
More on our Blog
In The News