Most farmers are so busy with the day-to-day business of farming that they find it hard to plan ahead. While they might have hopes for the future of their farm, deciding what to do with their farm as they exit farming can be challenging. We help farmers dig through their options—from financial, legal, family, and emotional considerations—to find a strategy that meets their personal and farm business goals, as well as goals for the land. Together, we work with farmers toward a smooth farm transition, and often it's about a strong farm connection. 
A connection that Herb FARMacy owners were thankful to find in these beginning farmers.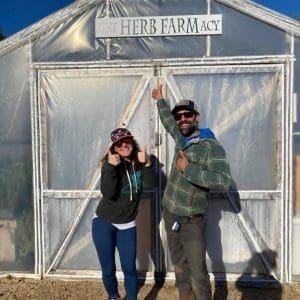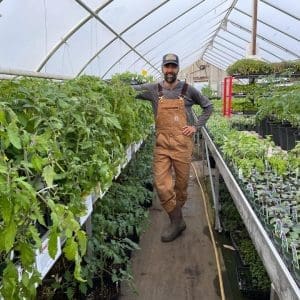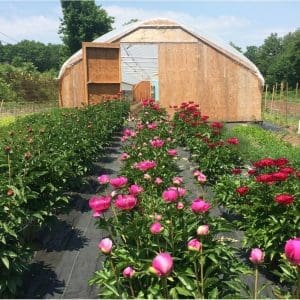 It's an exciting season for Rijk & Maura who are joyfully building on the past 20 year legacy of the Herb FARMacy as their forever farm, Anything Grows Farm. (credit: Anything Grows Farm)
Former owners, Rita and Brooke, worked with us on farm succession planning and posted their Salisbury, Massachusetts property on New England Farmland Finder, a farmland listing and linking website that Land For Good established in conjunction with the New England Farm Link Collaborative. The site helps connect landowners to farm seekers, as well as resources and services, and in this case, a referral to our field agent in Massachusetts who provided technical assistance.
After a robust response to the farm posting, they found Rijk and Maura to be a good fit. The duo had good greenhouse production experience, worked on multiple farms, and completed a season in New Entry Sustainable Farming Project's incubator farm program.
They really wanted to build on what we've started," shared Brooke.
Rita and Brooke credited Land For Good's farm succession planning guidebook with their first steps in the process, Successful Farm Transfer Planning for Farmers Without an Identified Successor.
With a few key guiding objectives, it was easier to keep track and move forward," recalled Brooke.
Rita and Brooke also attended our farm succession planning workshop, co-hosted with Essex County Greenbelt Association in 2020, where they began the planning process and connected with peers. They consulted with Jae Silverman, our field agent in Massachusetts, to post their property to New England Farmland Finder and help with referrals.
New England Farmland Finder was the perfect tool for identifying prospective successors! We were fortunate to get a good response and have multiple qualified individuals interested in the opportunity to take on our farm and farm business" explained Brooke.
It's now an exciting season for Rijk and Maura who are joyfully building on the past 20 year legacy of the Herb FARMacy. They share the same passion for growing high quality, organic foods for the community on their forever farm, now Anything Grows Farm.
Rita & Brooke had a priority of farm connection," shared Rijk. "It felt the same for me. It was more about the connection and not just about the sale. Rita & Brooke wanted someone capable of handling it, that was most important."
In continuing the legacy of organic, no-till farming, Rijk and Maura have a goal to reduce the farm's fossil fuel consumption footprint and already note steps in this direction with seed fertility, as well as cooling and washing processes. They also have plans to expand the farm business through local farmers market, plus an addition of a farm stand on-site this fall. They are already seeing an increase in new customers.
While we really miss our farm, we are happy that it will continue on under new stewardship, hopefully for another couple of decades!" shared Brooke.
Land For Good has helped hundreds of farmers find innovative solutions that keep their farms in farming and address the many challenges involved in transferring a farm. Retiring farmers want guidance and strategies to plan their transition and farm transfer, while beginning and established farmers need access to affordable land to start or grow their farms.
Want to follow our farmers' journeys? Find us on Facebook, Twitter & Instagram to read more stories and see our good work in action.