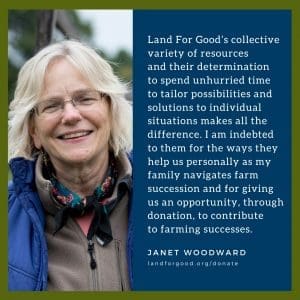 We provide quality, customized service to farmers, landowners, and agricultural service providers around issues of farmland access, tenure, and transfer. Our field agents offer one-on-one advising at low or no-cost assistance. Costs vary depending on needs and available funding, with always a sliding scale option. We rely heavily on funders, individual donors, and project grants to fund this labor-intensive work.
Information & referrals
Our staff regularly respond to questions and requests for information about farmland access, especially in New England. If you're unable to find answers on our website, contact us with your question. We'll do our best to respond within 48 hours. 
One-on-One Advising
If you contact us and we determine that your inquiry can't be addressed with a simple referral, our New England field agents will offer to provide you with advising services (by phone or email) at no cost. We do our best to meet the needs of you or your organization, and to make the best use of our time together. We typically request background information, set a time to talk, and may ask you to prepare in advance (i.e. read, complete a worksheet, assemble documents). We may suggest other advisors and resources for you to pursue.
We are committed to making the best use of funding resources that support this service and ensure that our services benefit as many people as possible. Therefore, we cap our consulting time at two hours, which may be spread out over time. We encourage anyone who values our services to "pay it forward" and donate to help others receive the same benefits.
Client services
We specialize in providing in-depth and sustained services to farmers, landowners, and service providers who may want more assistance and on-going support. Examples of these client services include:
Written reports
Site visits and face-to-face meetings
Assistance with crafting documents
Farmer recruitment
Maps and scenarios
Ongoing coaching
Extensive research
We charge a fee for these ongoing consulting services. Through our cost-share and sliding scale plans we will find a way to work with anyone who needs our services. Contact us.
Learn more
Read some examples of how we've helped farmers, landowners, and service providers. And learn more about our community projects.