The Rhode Island farming community, and all of us at LFG, extend a special thank you to Tess Brown-Lavoie as she transitions out of her role as LFG's Rhode Island Field Agent. As a farmer and community leader, Tess' dynamic work in Rhode Island (and beyond) helped farmers access land and transfer farms in service of a more just and sustainable agriculture. Tess has helped all of those around her commit to the personal, organizational, and community work to address past injustices in order to build systems that achieve race equity in our society. 
Reflecting on the relationships she built these past years, Tess shared:
I have been inspired by the creativity of Rhode Island farms and those who support them. Thank you for working with me to make sense of and take action on so many complex issues and for everything you do for this land and for farmers."
We are excited about the next chapter of our work in Rhode Island
.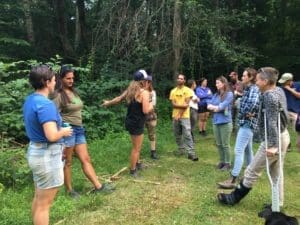 Little State Flower Co., a specialty-cut flower farm in Portsmouth, RI, discusses their farmland leasing model with other farmers at the Young Farmer Network farmer nights series last year.  
Rhode Island boasts a strong farm and food system that supports its economy, culture, and people. It also has the most expensive farmland in the country. LFG is proud to be connected to a strong network of collaborators addressing the many farmland challenges that new, beginning and exiting farmers face amid fluctuating markets and agricultural land conversion.
The inability of the older generation to exit farming, and of the next generation to enter farming, constitutes one of the greatest challenges for farming in the state, and the region. The average age of New England's farmers is increasing rapidly, and farmers and their families need support transitioning their farms to a new generation. Though their numbers are increasing, young, beginning, and non-white farmers struggle to gain access to farmland. 
The racial demographics of Rhode Island farmers are also changing, and we must help ensure that all farmers have equitable access to farming opportunity and the resources they need to address the obstacles ahead. Read more in ecoRI, "What it takes to be a Black Farmer: Continuing a legacy and combating systemic racism."
Our strong network of collaborators in the state include:
Young Farmer Network
RI Department of Environmental Management
Southside Community Land Trust
RI Land Trust Council
Aquidneck Land Trust
URI Cooperative Extension
Northern RI Conservation District
Southern RI Conservation District
Rhode Island Farm Bureau
Rhode Island Food Council
Grow Smart RI
Narragansett Food Sovereignty Initiative
Together we strive to build farming and food systems that are just and equitable for all. With farmers of color accounting for only 1.4% of the country's 3.4 million producers (USDA National Agricultural Statistics Service), it is important to acknowledge structural barriers facing farmers of color (and others) and the need for greater  equity around access to farmland.  We continue to make space for our staff to listen, learn, and hold dialogue on racial equity issues in farmland access and our food system. As we raise the voices of BIPOC farmers, we are deepening our ability to support and be allies for them, as well as other organizations working with BIPOC farmers. 
Join our team!
This recent staff transition creates a great job opportunity to work on critical issues of accessing and passing on farms and farmland. Are you, or someone you know, interested in working for an organization that makes a real difference for farmers and food systems? 
Our staff educate and consult with farm seekers, transitioning farmers and landowners, while partnering with other state and regional groups on education, community outreach, advocacy, and special projects.
We have a clear vision: to be the place where a diverse mix of talented people do their best work to ensure the future of farming and food systems. Our organization runs on the hard work and dedication of our passionate and creative team – staff, board, consultants and partners. Our vision and values are reflected in our employment-related decisions, including hiring practices. LFG actively encourages people who bring diverse backgrounds and perspectives to apply.
*Apply before September 11, 2020.
.