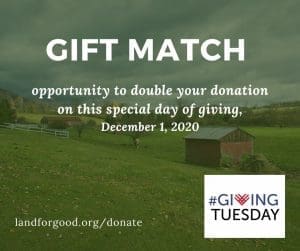 In this time of great uncertainty, there's a fundamental truth that gives us hope—that together we can do extraordinary things. Join us on Giving Tuesday, December 1, 2020, and help us fight for New England's farms and our local food security.
Double your impact this year! On Giving Tuesday your generosity will be matched by a fellow donor. All donations up to $2500 will be matched dollar for dollar, allowing you to do twice the good with your donation. And 100% of your gift will fund direct services to farmers and farmland owners through our Opportunity Fund.
With your support, Land For Good can continue to offer urgently needed, direct services to farmers and landowners, ensuring that farmland stays in farming, and safeguarding the future of our food system.
Here is how you can get ready:
Mark your calendar: December 1, 2020.
Give. On December 1, go to landforgood.org/donate and donate.
Spread the word. Encourage your friends and family to join you in making a real difference for New England farms by sharing what our mission means to you and why you support our organization. And they, too, can take advantage of the generous gift match this day! Make sure you use hashtag #GivingTuesday —and tag Land For Good so we can share.
Giving Tuesday was created in 2012 as a simple idea: a day that encourages people to do good. Over the past 8 years, this idea has grown into a year-round global movement that inspires hundreds of millions of people to give, collaborate, and celebrate generosity. Land For Good is joining the conversation again this year to raise awareness of the farmland access challenges and what is needed to keep farmers on their land and to keep farmland in farming.
Let's rally together to support our farmers by helping them secure their farmland. Please give!