With fall arriving, it's the perfect time to gather the tools that will support you during your winter planning season. If you're thinking about leasing farmland, or making your land available to lease to a farmer, consider these many benefits – and tools – to help you craft a new lease agreement or improve your existing lease. 
Leasing Benefits  
Leasing farmland has many benefits, which make it a common way to access land. Nearly half of all US farmers lease either some or all of the land that they farm because leasing allows farmers to get onto farmland without the enormous capital investment required to purchase land. 
When it comes to leasing, there are different types of leases to consider: short-term, long-term, ground lease, and even leasing-to-own. A short-term lease can enable you to experiment with new practices, try a new location, test whether your farm plans are financially feasible and whether you are comfortable with your landlord. This flexibility, as well as reduced financial risk, is particularly useful when you're just getting started. However, with a short-term lease there is no opportunity to build equity, and it can be hard to make long-term business or family plans. With an annual lease, you don't know for sure if you'll be on that same land next year, so longer-term soil improvements, drilling a well, or putting up permanent structures is usually not a wise investment. 
Long-term leases offer many of the same financial, practical, and emotional advantages of owning land, without some of the associated costs and responsibilities such as taxes, fees, depreciation and insurance. They provide a longer planning horizon, giving you the time to implement sustainable farming measures and capture the benefits of investments in soil building. A long-term lease can also be a significant commitment; the lease should provide for reasonable termination if things don't work out.
What about equity, is it important to you? You can establish equity through an agricultural ground lease where a farmer leases the land ("ground") and purchases or builds and owns the buildings (and sometimes other improvements) on the land. This is an interesting hybrid, part tenancy and part "partial ownership interest," that is suitable and appropriate for farmers who wish to build equity in their enterprise.
If ownership is a goal of yours, leasing can be a pathway to ownership. "Lease-to-own" refers to strategies to gain ownership of a particular property at a future point via specific legal transactions involving the property owner (landlord) and the buyer (tenant). Lease-to-own provisions are advantageous for farmers who cannot arrange for a conventional mortgage but are pretty certain they want to own this particular property in the future.
Landowners also benefit from lease agreements. For example, there are property tax advantages to having your land in agricultural use. Additionally, a farm tenant can share the burden of property maintenance and contribute desired improvements. Finally, not only are you offering an important opportunity to a new farmer or farm family, but you are also benefiting the land — active farm management is often much better for the land itself than letting it sit idle or leaving it to weeds and scrub.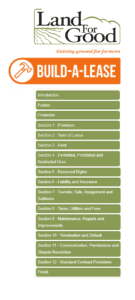 Tools to Support Your Lease
With those benefits in mind, take advantage of the tools available to help you develop or improve your farmland lease.
Consider these Elements of a Good Farm Lease as a great place to start familiarizing yourself with what should be included.
From there you can try the Build-A-Lease Tool, which allows you to learn about farm leases, build a working version of a lease agreement that fits your situation, and save, revise, download, and share the Tool output in discussions with landowners, farming tenants, and advisors such as attorneys.
There are a number of other resources at your fingertips in our Leasing Toolbox — for both farm seekers and landowners.