Farmland access and transfer are among the biggest challenges for new and established farmers in Maine—and across New England. On October 19th, Ma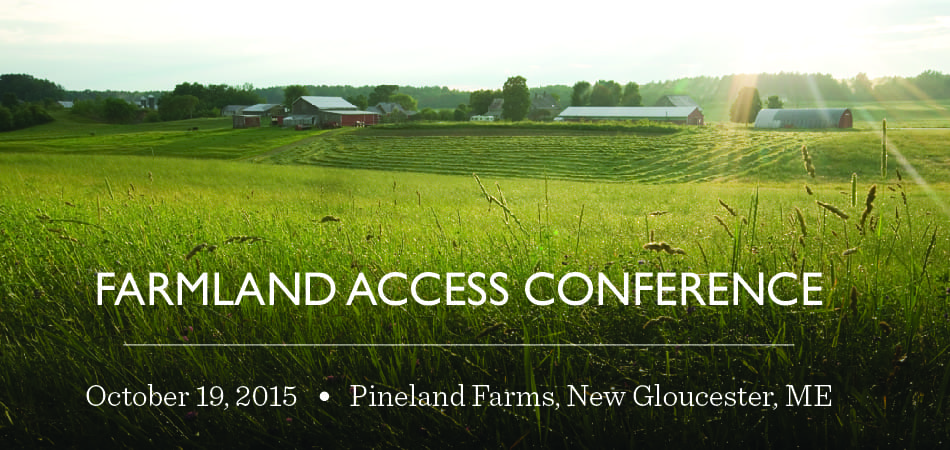 ine Farmland Trust (MFT) partnered with Land For Good (LFG) and American Farmland Trust (AFT), to host a full-day of workshops tackling the critical issues surrounding farmland access.
The Farmland Access Conference highlighted the opportunities and challenges facing farmers, landowners and communities who want to put more farmers on the land and keep land in farming. Over 140 farmers, landowners, service providers, and supporters came together to learn, discuss, brainstorm, and think outside the box. Review the agenda and speakers.
After a welcome by MFT President John Piotti, attendees heard from keynote speakers Kathy Ruhf (LFG) and Cris Coffin (AFT). Kathy laid the groundwork with a systems view of land access issues, and highlighted key issues, opportunities and strategies. Cris previewed results from an AFT-LFG project (Gaining Insights) about New England's senior and beginning farmers.
The plenary concluded with a panel of landowners and farmers. Alison and Eric Rector described their creative approach to gradually transferring part of their farm to new farmer-owners (Dickey Hill Farm), while they remain living and working on the farmstead. Brady Hatch of Morning Dew Farm shared the challenges of seeking farmland and strategies for growing on leased farmland. She operates a 10 acre MOFGA certified organic vegetable farm with husband Brendan McQuillen.
"We brought home the point that land access is also about legacy, helping farmers transition in ways that make their farms available for next-generation farmers, whether they are within or outside the family," says Kathy Ruhf, LFG Senior Program Director.
In-depth workshops addressed critical topics, like farm transfer planning, creating successful farm leases, financing a farm purchase, and innovative land access tools, like agricultural easements and the option to purchase at agricultural value. Panels included educators and advisors from Maine, Vermont, and Massachusetts, along with farmers and landowners who shared advice and lessons from their on-the-ground experiences. Landowners and farm seekers also had dedicated sessions to connect and network.
"Finding ways to support successful and sustainable farm transfer and access is one of the most important efforts underway in the Maine food system today," said Erica Buswell, the MFT Beginning Farmer Services Coordinator and the conference organizer. "Our goal for the conference was to provide the opportunity to share stories from the frontlines of farm transfer and access, and also a lot of practical information about how to address the challenges associated with these tasks. The fact that so many people from so many perspectives attended and shared really made the event a success."
"The conference – expertly hosted by MFT – showcased the innovation and energy of Maine's farmers and the collaboration of its service community. It was a privilege for us to add this our record of partnership with MFT and AFT," said Jim Hafner, LFG Executive Director.
A video of the conference wrap-up session facilitated by Craig Freshley can be viewed here.
A special thanks to MFT and to Food Solutions New England for permission to adapt their post.
Help spread the word and join the conversation to put more farmers more securely on more land!