Farming is a capital-intensive business to enter, in part because of skyrocketing land prices, and because beginning farmers often see small profits, or even losses, in their first years of business. 
Our Farm Access Methods decision guide was created to help farmers make informed decisions about how they access land in a way that is affordable for them. This guide organizes farm access and tenure methods into three basic categories: "ownership now," "ownership in the future," and "no ownership." 
Within those categories the guide explores a set of variables that farm seekers consider when seeking access to farms: security, equity, affordability, flexibility, farming requirements, and access to capital.
While the vast majority of farmers desire to own their farm at some point, just as many people want to own their own home, in reality nearly half of US farmers currently rent some or all of the land they farm. Considering the skyrocketing land prices and potential of small profits or even losses in the first years of business, beginning farmers may be more inclined to consider the "ownership in the future" or "no ownership" methods. These options limit the amount of upfront capital required and provide varying degrees of flexibility, security, and equity. Learn about other advantages to each method in this guide.
The guide is easy to use. If you're interested in a particular land access method like "ownership in the future," skip to page 40 in the guide and explore the nuances and considerations.
If you find yourself ready for "ownership now," the guide will help you consider partners or stakeholders, legal and financial arrangements, equity and legacy provisions, as well as challenges and responsibilities.
Not sure which path is right for you? Read through the guide in full to absorb and compare all the methods. Ask yourself what's possible for your current situation and down the road. What's desirable? Are you drawn to the idea of sharing ownership with others? Would you be comfortable with a public entity as a landlord? 
Think also about which variables are most important to you, or which ones drive the others. If you grow perennials, long-term security is important. Which access methods allow greater security? Or perhaps maximum freedom to farm is a priority. Which methods offer the most flexibility and minimal farming requirements?
Get answers at https://landforgood.org/farm-access-methods-guide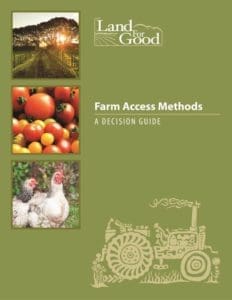 Farm Access Methods Guide
Authors:
Kathy Ruhf, Land For Good
Bob Wagner, retired American Farmland Trust
Appreciation goes to the reviewers and contributors of this guide, as well as our funders. A full list can be found in the guide.
The Farm Access Methods guide was developed by the Tenure Innovations Task Force of Land For Good's Land Access Project, Phase II (LAP2). LAP2 was supported by a grant from the USDA/NIFA Beginning Farmer and Rancher Development Program (NIFA #2015-70017-23900).