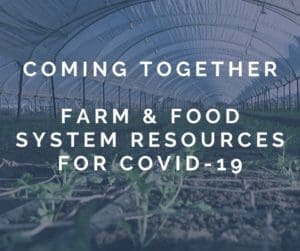 Now is a time for coming together and sharing resources of all kinds. During this pandemic, we want to provide farmers across New England with information and resources they need to adapt and sustain their farm businesses. 
Our mission has always been to help farmers, farmland owners, and those who serve them. This kind of guidance feels more crucial than ever. So we're going to keep doing what we do best to serve you.  We appreciate you, and we are shoulder-to-shoulder with you.
Remember, if you're a farmer, farmland owner or farm advisor in New England, please contact us for help with your farm search, farm transfer, land tenure agreement or farm support efforts.
For Supporting Farms 
How to buy direct from local farms
How to Support Farmers and Safely Shop at Farmers' Markets (3/30/20). Civil Eats article
Food Safety Recommendations and FAQs for the Consumer. Cornell Institute for Food Safety
Find New England farms to support
Support a farmer relief effort
American Farmland Trust Farmer Relief Fund (national). $1,000 grants help farmers weather the market disruptions caused by the COVID-19 pandemic.
Food & Land Sovereignty Resources for COVID-19. Needs and offers for specific mutual aid specifically for BIPOC farmers, and food and land sovereignty activists compiled by Soul Fire Farm, Black Farmer Fund, and Northeast Farmers of Color.
NOFA-VT Farmer Emergency Fund (VT). For ALL farmers in VT,  including organic, conventional, migrant farmers, and anyone else who impacted by COVID-19.
COVID-19 Philanthropic Response and Recovery Funds: Food & Agriculture System. Funds for farms, farm workers, food system workers and food access. Sustainable Agriculture and Food Systems Funders (SAFSF)
For Farmers (owners, managers and workers)

Adapting Your Farm Business
Farmer's Guide to Direct Sales Software Platforms. A helpful new guide to help farmers compare platforms for online sales channels. National Young Farmers Coalition
Selling Real Farm Products in a Virtual Marketplace article. Cornell Small Farms Program
Launch a Farmstead Bakery:  Recipes and Resources.  Created by a team of WI women farmers as a guide to add a value-added component to diversify your farm business mix by selling baked goods made in your home kitchen under your state's cottage food law
Farm Business Management
A Readiness Assessment for Continuity of Farm Business. Checklist to develop a business continuity plan for adapting/planning. PASA and Penn State Extension
Building Farm Resilience. Resources from the Cornell Small Farms Program
Preparing your food operation for a coronavirus situation. Action steps to prepare your farm or food business. Penn State Food Safety
U-Pick farms COVID-19 info sheet. General best practices, tips for communicating with customers, disinfection guidelines & more. NC State Extension
Farm Answers' library of COVID-19 resources collected to help you safeguard and protect your farm as you adapt your business. USDA-NIFA beginning farmer and rancher (BFRDP) clearinghouse
USDA Actions to Respond to COVID-19
Spanish Language
Asistencia a Agricultores Recursos en respuesta al COVID-19. Northeast, New York and federal resources. GrowNYC
COVID-19 Videos for Spanish-Speaking Farm Community. Videos in Spanish focusing on the novel coronavirus (COVID-19) and farmworkers. NC State Extension
En Espanol: Guia de Ayuda para la Recuperacion por COVID-19 para Agricultores. Farm Aid
Legal Support
Legal Resilience on the Farm through COVID-19. An on-going podcast series on legal issues and COVID-19 impacts on farm businesses. Farm Commons
Q&A on legal changes and consequences facing the nation's agricultural community. Major topics include economic stimulus, labor & employment, estate planning, and more. The National Agricultural Law Center
Food safety
Considerations for fruit and vegetable growers related to COVID-19. University of Vermont Extension
Coronavirus Prevention & Control for Farm. Cornell Agricultural Workforce Development
Farmers Markets COVID-19 info sheet includes best practices, tips for communicating with customers, cleaning & disinfection guidelines. NC State Extension
Food Safety Fact Sheets. Over two dozen fact sheets on food safety for Farmers Markets, Food Service, Grocery Stores, U-Pick operations, and Food Banks.  Univ. of Florida
Minimizing Risks for Coronavirus Transmission at Farmers Markets, On-Farm Markets, You-Pick Operations, and Produce Auctions. Penn State University
Handling COVID-19: Guidance for U-Pick.  Univ. of Florida, IFAS Extension
Dairy
Dairy farming family resources amid COVID-19. Center for Dairy Excellence
In your Dairy, what you need to know about Coronavirus with tips to protect yourself and your coworkers at the dairy; also available in Spanish version. Farm Journal

Farm labor health
Multilingual resources on COVID-19 for use in communicating with employees.
COVID-19 Resources for Farmers and Farmworkers (Migrant, Seasonal and H2A). Including videos in Spanish focusing on the novel coronavirus (COVID-19) and farmworkers. NC State Extension
Easy-to-understand infographics and short video clips that farm workers and managers can listen to or watch in English, Spanish, Haitian Creole, and Maya Mam. Agricultural Justice Project
National Center for Farmworker Health for latest updates and resources on COVID-19
COVID-19 resources for worker cooperatives, small businesses, and individuals including a list of needs and offers from our USFWC members across the country. US Federation of Worker Cooperatives
Disability considerations during COVID-19. World Health Organization
Financial Support for Farmers
Emergency Grants (See also by-state listing)
Small business and non-profit COVID-19 relief funding sources. A very comprehensive list compiled in a Google document.
Federal grants, Loans & Loan Flexibilities
USDA Corona Virus Assistance Program (CFAP) – Official USDA program page with application forms, payment calculator, and more. National FSA hotline – 1-877-508-8364
Condensed Guide to COVID-19 Programs. As of August 27, 2020. This 4-page guide provides helpful tips and information for farmers and their families during this crisis and outlines the programs they may be eligible for to support their families and farm businesses. Now translated into Spanish, Arabic, Bengali, Kinyarwanda, and Nepali. All versions linked here.
Navigating COVID-19 Relief for Farmer. As of May 4, 2020. A  quick summary of COVID-19 relief for farmers, published by FLAG in collaboration with Farm Aid, the Indigenous Food & Agriculture Initiative, the Intertribal Agriculture Council, Rural Advancement Foundation-International, and the National Sustainable Agriculture Coalition.
Paycheck Protection Program. New SBA program for forgivable loans to cover payroll for businesses with fewer than 500 employees. Available starting April 3, 2020.
Economic Injury Disaster Loan.  New low-interest federal disaster loans for working capital to small businesses suffering substantial economic injury as a result of COVID-19.
USDA Farm Service Agency. New changes to loans and safety net programs.
Risk Management Agency. New flexibilities for crop insurance.
Other Grants & Loans
The Carrot Project. An excellent list of state, federal, private and non-traditional agricultural and commercial financing options in New England and New York.
Grants and Incentives for Northeast Agriculture. Summarizes federal, regional and state grants and other incentives available to help Northeast farms of all types and sizes. Farm Credit East
MA Dept. of Agricultural Resources Agricultural Grants and Financial Assistance Programs
Grants and financing opportunities for farms.Includes opportunities for farms that preceded the current public health crisis. Community Involved in Sustaining Agriculture (CISA).
US Small Business Administration guidance & loan resources includes disaster loan information and local assistance directory.
Vermont Community Foundation Sprout Loans. Low interest loans of up to $60,000 to working lands businesses. 
For Policymakers & Advocates
Farm to Institution New England (FINE). An Institutional Food Systems and COVID-19: Resource Guide:
National Sustainable Agriculture Coalition (NSAC) statement on COVID-19 impact on the farm and food system with resource page
National Young Farmers Coalition (NYFC) statement on COVID-19 impact on young farmers with resource page
COVID-19 – Racial Equity & Social Justice Resources. An amazing list from Racial Equity Tools that includes analysis, tools, healing, lists of lists, and much more!
International Food Policy Research Institute on preventing global food security crisis under COVID-19 emergency
Food Systems Leadership Network COVID-19 Response Group. A new listserv hosted by The Wallace Center, who will distill and share back learnings from the dialogue
Key national listserves by topic:
For Security & Safety
How to Avoid COVID-19 Vaccine Related Cyber Scams offers free resources and safety tips to guard against vaccine related fraud. Columbia Engineering
For Stress & Wellness
Farm Stress Management. NE Extension Risk Management
Farmer Mental Health Hotline call 1-800-FARM-AID (1-800-327-6243). Farmer Services staff answer the hotline Monday through Friday from 9:00 a.m. to 5:00 p.m. eastern time. Farm Aid
National Suicide Prevention Lifeline connects to a skilled, trained counselor at a crisis center in your area, anytime 24/7. 1.800.273.TALK (8255)
Communicating with farmers overwhelmed by stress. Center for Dairy Excellence
Farm and Ranch Family Stress and Depression checklist and guide for making referrals. Colorado State University Extension
Managing Farm Related Stress communication tips, resources and warning signs. University of Maryland Extension
Stress and Wellness Resources for farmers. Dairy Center for Excellence
Farmer Stress Support, a resource page to help farmers and their families mitigate some of the stressors they're facing. UConn Extension
Love in the Time of Corona a positive message "In a time of Corona, let us acknowledge our fear, but feed our hope. What we feed will grow." Cooperative Development Institute

State Resources & Networks (New England, regional then alpha order)
New England
Farm to Institution New England (FINE). Matching needs with surplus in the New England institutional food system, active forums, and resources.
Farm Credit East COVID-19 Resource Hub.
Connecticut
UConn Extension COVID-19 Resources. Valuable resources for all audiences including farmers, youth, and families.
Connecticut Food System Alliance (CSFA). Important information on food access, food banks, SNAP, and school meals; information for CT farmers, as well as state and federal policy updates.
Northeast Organic Farming Association of Connecticut (CT NOFA). An expanded map and directory, developed in coordination with CT Department of Agriculture, to connect yourself to food and other farm products in this time of crisis.
Connecticut Department of Agriculture. Information to help support farm businesses, employees, and consumers, including guidance documents for Farmers' Markets and Farm stands/stores, which are deemed essential.
Maine
Beginning Farmer Resource Network (BFRN) at UMaine Extension. Resources, farmer survey, and  farm product and pickup directory.
UMaine Extension Agriculture. COVID-19 resources and FAQs for farmers, farmers survey, farm and seafood products directory, weekly farmer call-in meetings.
Maine Farmers COVID-19 Survey and Resources. Maine Farmland Trust
Maine Organic Farmers & Gardeners Association (MOFGA). Find local and organic products.
Massachusetts
MA Department of Agricultural Resources (MDAR). COVID-19 Resources for Agriculture
Community Involved in Sustainable Agriculture (CISA). COVID-19 resources for farmers, markets, and local businesses and updates.
Massachusetts Food System Collaborative. A list of readings and resources to keep the MA food system community informed and aware of relevant actions and activities.
New Entry Sustainable Farming Project. Farm and Food Resources for the COVID-19 pandemic including a shared resource document of compiled links and articles.
New Hampshire
UNH Extension. Resources to help NH farms and agricultural businesses respond to COVID-19 including FAQs updated daily, and twice weekly farmer forum.
NH Farm Products Map. Add your farm to this new online guide built by UNH Extension.
New Hampshire Food Alliance. COVID-19 and the NH Food System.
Vital Communities COVID-19 Response. Working to cultivate the civic, environmental, and economic vitality of the Upper Valley.
COVID-19 and Agriculture. Resource page of the NH Dept. of Agriculture, Markets and Food.
Rhode Island
COVID-19 Response Resource Page. Sections on agriculture and fisheries operations, as well as food access, food businesses, consumer, and general food systems. RI Food Policy Council
Local food resources. Agriculture Division of the RI Dept. of Environment Management.
RI Local Food Guide. Farm Fresh RI
Vermont
Grant Funding Calendar. Annual calendar of funding opportunities includes programs that are open year-round as well as 2021 funding opportunities. State of Vermont, Agency of Agriculture, Food and Markets.
Vermont Housing & Conservation Board (VHCB). Multitude of resources for working lands businesses.
VHCB. Disaster response support to businesses with urgent needs related to COVID-19 through the Vermont Farm & Forest Viability Program.
Vital Communities COVID-19 Response. Working to cultivate the civic, environmental, and economic vitality of the Upper Valley.
Farm First. Resources, support, and counseling to help farmers and family members with stress-causing issues. Immediate access to confidential help for any personal or work-related issue.
COVID-19 Farmer Resources. Including a list of skilled relief workers to lead milkings on farms for the duration of the sickness, with funds to pay relief workers. Northeast Organic Farming Association of Vermont (NOFA VT).
Find Local and Organic Food. NOFA VT
Vermont Community Foundation (VCF). Offering Sprout Loans, low interest loans of up to $60,000 to working lands businesses.
Have a resource to share? Email us at communications@landforgood.org.