Welcome to a toolbox for owners of properties that are or could be used for farming. This toolbox offers detailed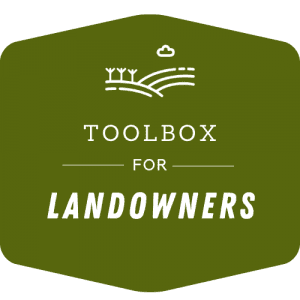 resources to help you through your decision making and negotiations. Owners and managers of agricultural land have critical roles to play in supporting farmers and local food systems. Materials are most relevant to farming and farms in New England, but many may apply elsewhere.
Private landowners – individuals, families, family trusts
Institutional landowners – religious and educational, for example
Organizational landowners – land trusts, other conservation organizations, community farms, educational organizations, etc.
Public landowners – municipal, county, state and federal properties that are or can be made available for farming, usually via leasing
Corporate landowners – business parks and headquarters, mall properties.
Resources are organized by topic:
Getting started – get your bearings with these tools & important first steps
Assessing your farmland – how to assess & describe your property
Post your property on farm link programs – create an effective property listing to share widely & connect with farmers looking for land
Related links 
Key:

 indicates Land For Good authored resource 
Getting started
Assessing your farmland
 Farm Evaluation Checklist.
Checklist of considerations for location, land, infrastructure, climate and housing.
 Vermont Natural Resource Atlas Mapping Tutorial.
Blog introduction about how to navigate this natural resource atlas, or see full tutorial.
Vermont Natural Resources Atlas.
Geographic information about the Vermont's environmental features and sites. Vermont Agency of Natural Resources.
GranitView.
New Hampshire's Statewide Geographic Information System of topographic maps including soils, flooding hazards, water resources, and more. University of New Hampshire.
Using the NRCS Web Pages to Get Soils Information.
Guide for using NRCS website, the nation's most comprehensive source for soils information. Maryland FarmLINK Guide.
Web Soil Survey.
Website considered the single authoritative source of soil survey information. USDA Natural Resources Conservation Service.
UC Davis Tool for navigating websoil survey data.
Interactive map allows you to explore USDA-NCSS soil survey data for locations throughout most of the US. UC Davis, NRCS. See also this introduction to the tool with tips from our staff.
RIDEM Environmental Resource Map in the RIDEM Map Room.
Interactive map resources viewable through the ArcGIS Online map viewer. Rhode Island Department of Environmental Management.
Google My Maps tutorial.
Tips from our staff to create custom maps and easily calculate acreage to assess properties, look at boundaries, etc.
Area Calculator Tool.
Useful tools to calculate the area of a parcel or field. Google Maps or PlaniMeter by ACME
How to Determine Land Area and Distance With Your Smartphone
Article from On Pasture about how to use GeoMeasure, an app for iOS and Android smartphones.
Post your property on farm link programs
Related links
Need more help? Contact us.
Back to Toolbox