Berkshire County, Massachusetts has a rich history of agriculture. Today it supports a huge diversity of farms from large, multi-generational dairy farms to small, urban vegetable operations, as well as farmers markets, farm stands, and many farm-focused events.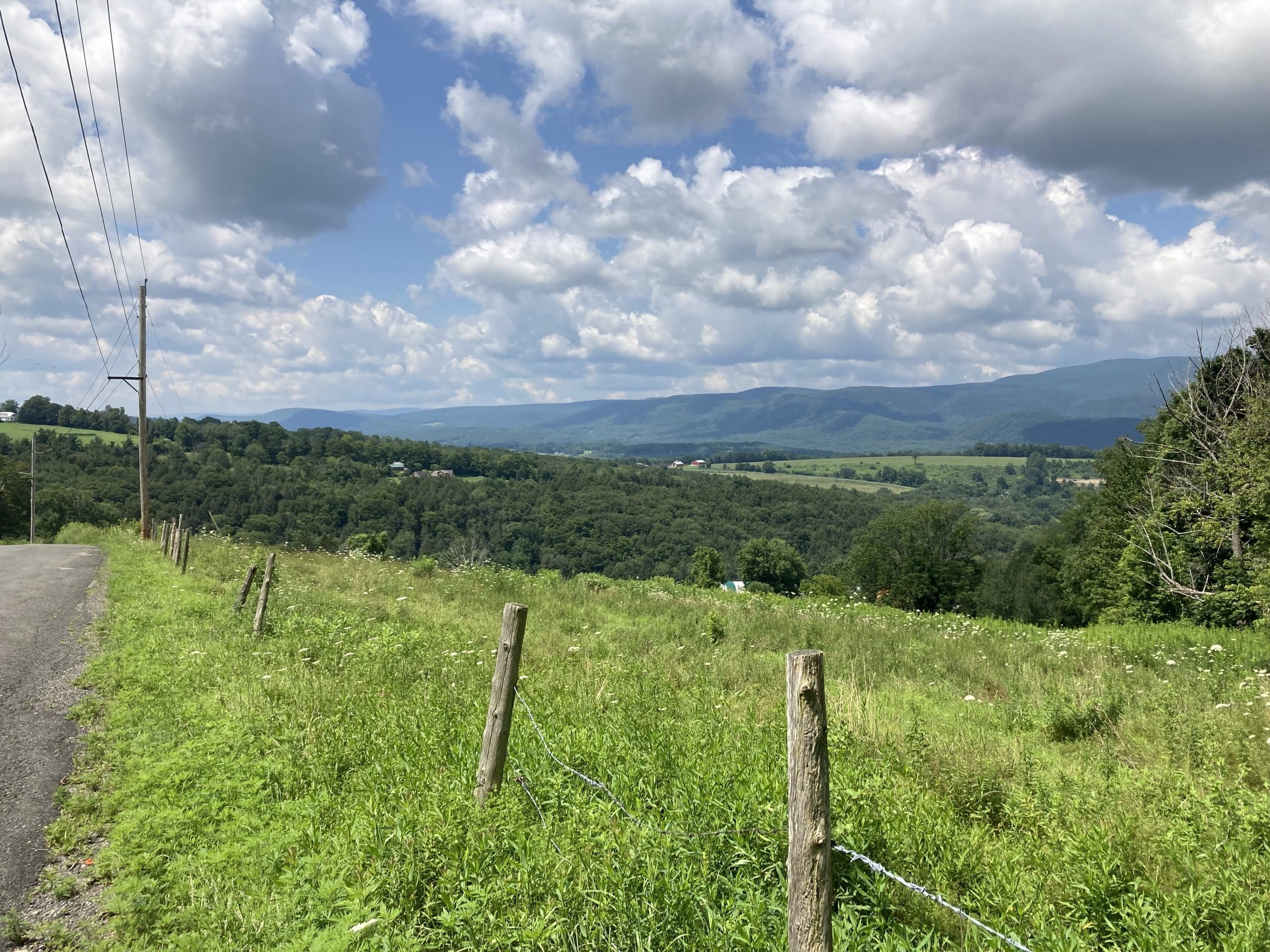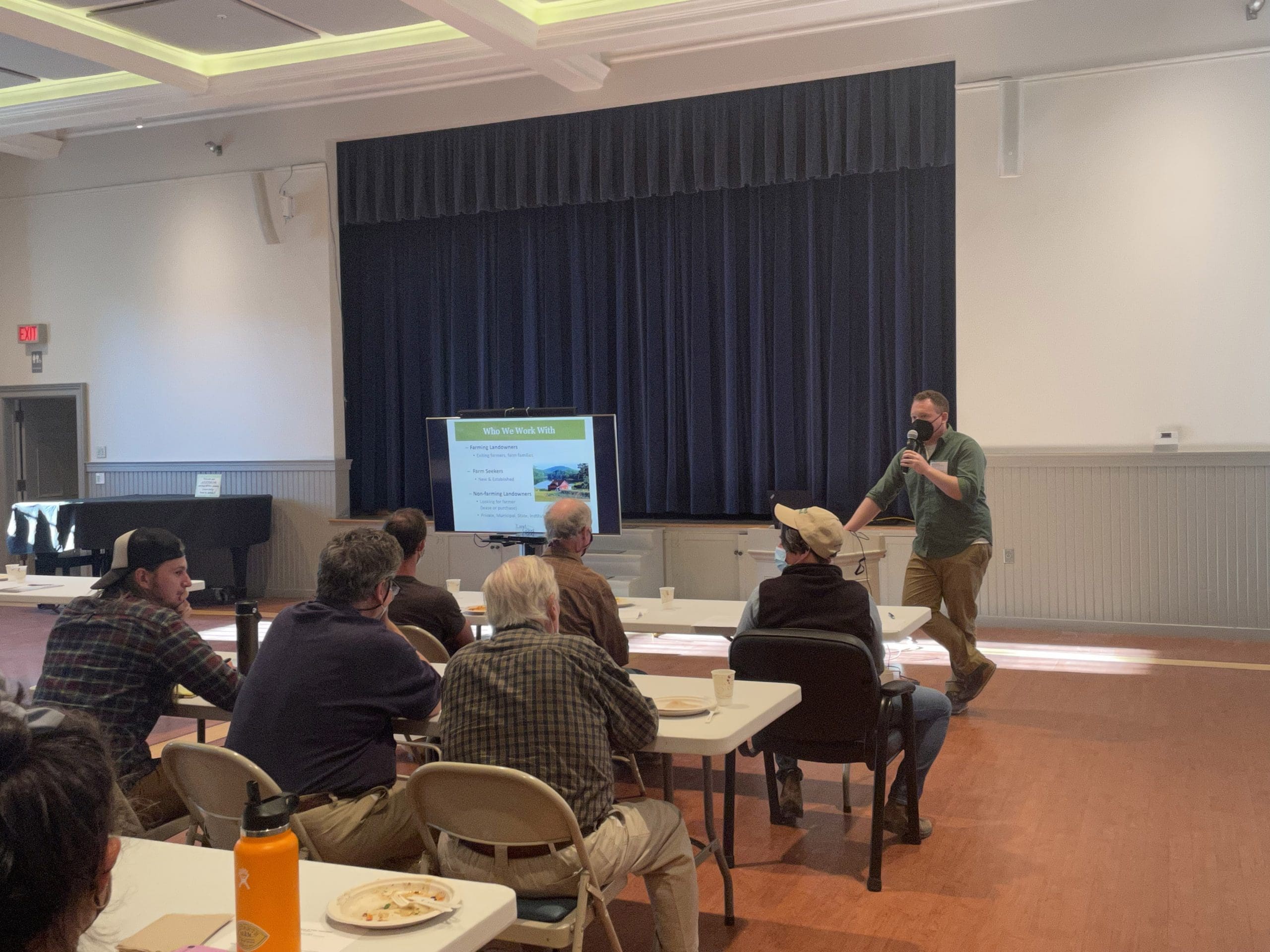 Jae Silverman, Massachusetts Field Agent at Land For Good, and Tina Smith, Western Massachusetts APR Program Planner at the Massachusetts Department of Agricultural Resources, address farmers in Berkshire County at the Planning for The Future of Your Farmland workshop hosted last month. Photo credit Jamie Pottern and American Farmland Trust 
But conditions in Berkshire County call for increased attention to farmland access and transfer. An aging farmer population, rising land values, and development pressure threaten the region's agricultural resources and local food security. 
While not unlike other parts of New England, in Berkshire County these conditions are heightened. Agricultural support organizations and community members are coming together to increase and improve coordination of crucial assistance. Separated from the rest of the state by a mountain range, Berkshire County is a distinct region with its own support networks and communities, necessitating a localized effort and approach.  
Last month, we co-hosted the region's first Planning for the Future of Your Farmland workshop in Williamstown with American Farmland Trust and the Williamstown Agricultural Commission. The workshop brought together approximately 35 farmers and farmland owners and agricultural providers from Williamstown and surrounding towns. Farmers were attentive and appreciated the overview from a broad array of speakers and service providers.  
Generally, the idea of getting the ball rolling on farm succession planning or making land available seemed to have sparked interest in folks," shared Jae Silverman, Land For Good's Massachusetts Field Agent. "Folks were eager to learn more about current use taxes, agricultural preservation restrictions and easement possibilities, as well as how to actually connect with or find a farmer or successor."
The workshop featured speakers to share information about farm succession planning, estate planning, conservation options, and how to make land available for the next generation of farmers. This included speakers from Caretaker Farm, Berkshire Natural Resources Council, Massachusetts Department of Agricultural Resources, Farm Credit East, Lazan Law, and Land For Good. 
It was also great to see and be in the same room with so many farmers and other service providers, many of whom I hadn't seen in person in a couple years," recalled Jae of being able to catch up with folks amid the pandemic.  
The group addressed many important questions, such as: What does retirement mean for a farmer? How do you find someone to take over the farm? How do you make sure your farm will always remain a farm? How do you divide a farm equitably among multiple heirs when only one of them wants to farm it? Check out the op-ed in the Berkshire Eagle to read more about the event: Supporting farmers is vital to securing a resilient future in the Berkshires.
Scope of work
Land For Good (LFG) is partnering with American Farmland Trust (AFT) in Berkshire County to enhance farm succession and transfer planning support and to improve farmland access and tenure opportunities for farmers. AFT has a special focus on furthering farmland protection efforts in Berkshire County and has been engaging, convening, and supporting  farmers and land trusts in Berkshire County over the last few years to better understand their needs and develop collaborative partnerships. 
There are mounting economic and development pressures on Berkshire County farms and farmers. We have identified an urgent need for farm succession planning, farmland access support, and farmland conservation efforts. This requires collaborative fundraising efforts among partners, farmer and service provider education, and technical assistance for farmers of all ages," shared Jamie Pottern, New England Program Manager at American Farmland Trust. 
This workshop was part of a grant-funded collaborative effort and larger initiative for Berkshire County. LFG's Land for Farmers project, supported by the Beginning Farmer and Rancher Development Program from the USDA National Institute of Food and Agriculture, builds on previous collaborations and endeavors to develop new training, expand advising, and improve resources and tools for farmers and landowner.
The Land for Farmers project's guiding purpose is for more beginning farmers in New England to start or expand their farm business through successful access to land by purchase or secure tenure agreements. One specific goal of the project is to improve farmland access and tenure opportunities in the Berkshires.
LFG also offers technical assistance to farmers in Berkshire County that are in need of individual assistance, help to manage their planning process or facilitate family conversations, refer or involve other advisors when needed, support successor recruitment and establish land use agreements. For one-on-one support, contact us at info@landforgood.org or complete this detailed inquiry form. 
More educational opportunities
As part of the Land for Farmers project and in collaboration with AFT, there will be a series of future workshops over the next two years for transitioning senior farmers and farmland owners, like the one conducted last month, as well as workshops for beginning farmers. These will be held at rotating locations across Berkshire County to serve different farmers. 
LFG will also host farmland access workshops for beginning farmers in collaboration with AFT and other service provider partners. These sessions will be an opportunity to listen to beginning farmer needs as well as offer peer-to-peer sharing. Locations will rotate to serve different areas of the county. 
AFT is spearheading the Berkshire County Farm Futures collaboration. It is a strategic effort to convene land trusts, local organizations, state agencies, and communities to further farmland protection and enhance land access efforts across Berkshire County. This includes technical assistance to land trusts and towns, coordinating funding proposals with local partners, and providing direct support to individual farmers. AFT continues to reach out to beginning farmers and transitioning, senior farmers in the Berkshires to identify needs and opportunities.
Related Links
Farm Seeker Toolbox
Farm Transfer Planning Toolbox
Landowners Toolbox
Negotiating Leases
Land For Farmers Project
AFT's Berkshire County Farm Futures

This work is supported by the Beginning Farmer and Rancher Development Program [grant no. 2021-49400-35642] from the USDA National Institute of Food and Agriculture.