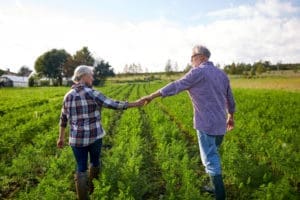 Successful farm transfers require a supportive and knowledgeable team of service providers. A new professional development project is aimed to strengthen the knowledge, skills and collaboration of a diverse group of service providers who work with—or want to work with—transitioning farm families in various ways across New England.
With a grant from Northeast Sustainable Agriculture Research and Education (SARE), we will host unique training opportunities for professionals across New England who support farmers in transfer and succession planning.

Over 10,000 New England farmers are likely to exit farming in the next decade. Many lack adequate farm transfer or succession plans. Without the proper resources and support, many farms will go out of production or become part of larger farms, further reducing the opportunities for next-generation farmers to acquire and grow viable farms. Succession planning resources and workshops for farmers are widely available. However, training and networking for attorneys, financial experts and other farm service providers are scarce.
We know that educating farmers is not enough. Farm succession planing is complex and takes time. Farmers need skilled and knowledgeable professionals who can work as a team to help them complete and execute succession plans.
Farm succession planning is a complex, multi-component process. This is best approached with a coordinated team of advisors. This NE SARE project will allow us to continue to address the need for more trained advisors in the coming year," says Shemariah Blum-Evitts, LFG's Program Director.
Join us in improving teamwork and capacity to do farm succession planning. Several professionals have indicated in the past that they have a strong desire for more training and that they prioritize succession-related professional development:
Do more of these sessions! Hearing from practicing professionals was great. Networking and mentoring were so valuable."
Service Provider Training in each New England state
January 2021
In order to expand and deepen the expertise of the farm succession planning team, we will hold a training in each New England state in January 2021, which will bring together a diverse group of farm service providers and professionals concerned about farm succession and transfer planning. These trainings will be designed for extension staff, conservation groups, mediators, farm link programs, land trusts, and non-profit agriculture service providers who play succession advising and support roles in their state to learn skills, understand each other's work, and build a referral network in the state.
These one-day, cross-disciplinary trainings will focus on: succession planning basics; networking and team methods; soft issues (family communications, goal-setting, assessment); and case clinic practice, as well as discussions on how to identify client needs, find other providers, communicate disparate content, and problem solve with other providers. We will explore how to effectively support a farm succession planning process using a "team approach."
More peer-to-peer learning & support
February-April 2021
Service providers will also benefit from continued support. Attendees from state-based trainings will be invited to participate in ongoing case-sharing and support conference calls. LFG staff and collaborators will host calls in each state to further bolster the network of service providers. The calls will focus on participants sharing the work they are doing with farmers, questions, challenges, and successes. It will be an opportunity for further peer learning and sharing across the network to strengthen service relationships. 
Share cases, engage in peer-to-peer mentoring, and problem solve together. Two calls will be scheduled February–April 2021.
Attorney & Financial Advisor seminar
September 20-30, 2021
Originally planned as a 2 day seminar, we'll be offering virtual sessions over a two week period for attorneys and financial advisors that will focus on the legal and financial components of farm succession plans. These sessions will be a unique opportunity for peer-to-peer learning and network-building, with presentations by experts, small group case and problem-solving clinics, and round-table "best practice" discussions. Technical topics will include entity selection, asset transfer methods, estate planning, tax considerations and health care planning, materials from LFG's Farm Succession Advising: Attorney Training Compendium, and more. 
Stay tuned for more details or request updates about this unique training opportunity.
Please share with any service providers you feel would be interested.
This training is supported by the National Institute of Food and Agriculture, U.S. Department of Agriculture, through the Northeast Sustainable Agriculture Research and Education program under subaward number ENE19-155: Improving Professional Capacity to Deliver Farm Succession Planning Assistance in New England.