Accessing land is a challenge for all farmers, including those who farm commercially in urban settings – or aspire to. Many land access issues are common to all farm seekers, but urban farming presents variations distinct from rural farming.
Our new guidebook, Farmland Access in Urban Settings, addresses the unique aspects of land access in urban settings, such as those associated with location, cost, security, infrastructure, and regulations. Combining practical suggestions, examples and innovative models, this guide can help an increasingly diverse cohort of new farmers launch and sustain viable urban farms.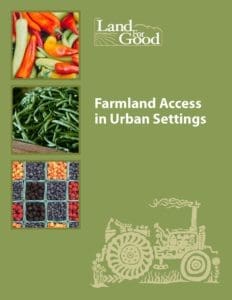 Urban agriculture is a broad topic with a range of issues. This guides focuses on how farmers gain access to and hold land for commercial farming in urban areas. An "urban area" is typically a densely built environment, usually within city boundaries. Urban areas include  a variety of open spaces suited to farming.
This helpful guide addresses basic questions about land that most urban farmers face, such as:
What are the farmland access and tenure challenges in urban settings?"

How can a commercial farmer get onto and hold land?"

What innovations mitigate urban farmland access challenges and promote greater access to land for urban farming?"
Farmland Access in Urban Settings is a product of the  Tenure Innovations Task Force within Land For Good's regional Land Access Project, Phase II (LAP2).
LAP2 was supported by a grant from the USDA/NIFA Beginning Farmer and Rancher Development Program (NIFA #2015-70017-23900).