Most farmers that we work with want their land to stay in agriculture, but very few have plans in place that articulate how the land, business, and other assets will be divided among the next generation or unrelated operator. More than thirty percent of New England's farmers are at or beyond retirement age, and most do not have an identified successor. Without careful planning, these farms are at risk.
We have helped hundreds of farmers across New England find innovative solutions that keep their farms in farming and address the financial, legal and business challenges involved in transferring a farm to a next generation family member or unrelated successor. Succession planning can present challenges, and each situation is unique. We have the knowledge, networks and experience to help you make a plan that fits your situation and can achieve your goals.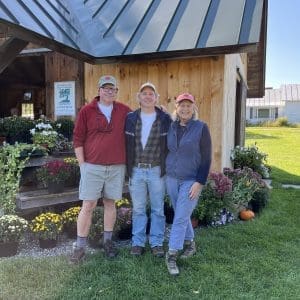 "Mike was terrific in getting us going on it and getting us focused and thinking about everything that needed to happen," shared Tim & Janet Taylor, founders of Crossroad Farm. "Having patience with us over the years. Mike checked back regularly with us and worked with us when we were ready."
We can help you:
Clarify goals & next steps

Draft a farm transfer plan
Identify or recruit a farm successor, if necessary
Explore financial & legal considerations
Work with the next generation or incoming farmer & help all parties to get to know their new roles
Our field agents offer one-on-one advising at low or no-cost assistance across New England. Costs vary depending on your needs and available funding, with always a sliding scale option. Complete our Farm Succession Form to initiate a no-cost informational session.
Listen to what our farmers have to say! Read about the seamless farm transition at Crossroad Farm.
Get started