Finding secure access to land is the top barrier for a new generation of farmers. More than sixty percent of beginning farmers report that access to land is their biggest challenge. Although agricultural land tenure has always been an issue, the consensus is that finding, getting onto, and holding land for farming is harder than in past generations. Escalating cost of land, competition for uses, and concentration in ownership have compounded the issue.
We have helped hundreds of farmers across New England at every stage of the process of acquiring and negotiating for farmland. Whether you are a new, beginning or established farmer, we can help you sort out and navigate the issues around accessing farmland or a farm property. We understand the challenge of finding the affordable, secure and productive land you need to realize your goals.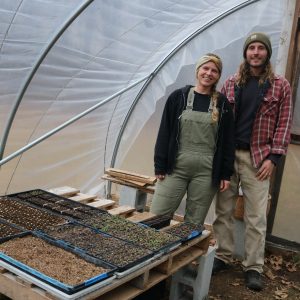 "Jae was super knowledgeable, and I felt he had our best interest in mind," shared Cara at Free Living Farm. "Talking about what we are looking for when it comes to land helps get those feelers out as well as gives another set of ears and eyes the opportunity to help in your search."
We can help you:
Learn how to conduct a land search
Assess a farm property
Identify goals & set financial parameters
Review pros & cons of different tenure methods
Draft sound land use agreements
Discover keys to successful communication
Our field agents offer one-on-one advising at low or no-cost assistance across New England. Costs vary depending on your needs and available funding, with always a sliding scale option. Complete our Farm Seeker Form to initiate a no-cost informational session.
Listen to what our farmers have to say! Read how beginning farmers Cara & Michael found land through farm link program.
Get started