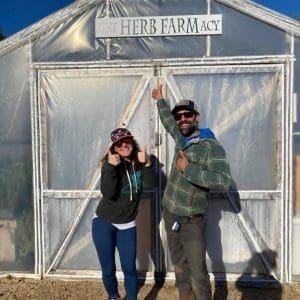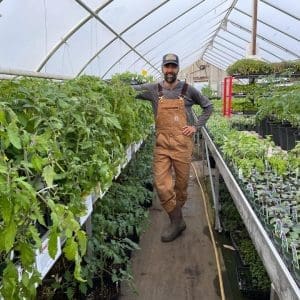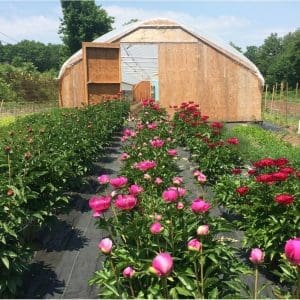 It's an exciting season for Rijk and Maura who are joyfully building on the past 20 year legacy of the Herb FARMacy. They have the same passion for growing high quality, organic foods for the community on their forever farm, now Anything Grows Farm. (credit: Anything Grows Farm)
Your support helps more farmers secure farmland and keep land in farming.
Our mission is to ensure the future of farming in New England by putting more farmers more securely on more land. Since 2004 we have provided caring support and expert guidance to help farmers, landowners and communities navigate the complex challenges of land access, tenure, and transfer.
With 30% of New England's farmers over retirement age, thousands of farms are already changing hands and, without careful planning, at risk of being lost to development. Farmers looking to retire face uncertainty about the future of their farms because many lack a ready successor. Together, we work with farmers toward a smooth farm transition, and often it's about a strong farm connection.
A connection that Herb FARMacy owners were thankful to find in these beginning farmers.
Former owners, Rita and Brooke, worked with us on farm succession planning and posted their Salisbury, Massachusetts property on New England Farmland Finder, a farmland listing and linking website that Land For Good established in conjunction with the New England Farm Link Collaborative. The site helps connect landowners to farm seekers, as well as resources and services, and in this case, a referral to our field agent in Massachusetts who provided some technical assistance. 
After a robust response to the farm posting, they found Rijk and Maura to be a good fit. The duo had good greenhouse production experience, worked on multiple farms, and completed a season in New Entry Sustainable Farming Project's incubator farm program.
They really wanted to build on what we've started," shared Brooke. 
Rita and Brooke credited Land For Good's farm succession planning guidebook with their first steps in the process. They also attended our farm succession planning workshop, co-hosted with Essex County Greenbelt Association in 2020, where they began the planning process and connected with peers. They consulted with Jae Silverman, our field agent in Massachusetts, to post their property to New England Farmland Finder and help with referrals.
Rita & Brooke had a priority of farm connection," shared Rijk. "It felt the same for me. It was more about the connection and not just about the sale. Rita & Brooke wanted someone capable of handling it, that was most important."
It's now an exciting season for Rijk and Maura who are joyfully building on the past 20 year legacy of the Herb FARMacy. They share the same passion for growing high quality, organic foods for the community on their forever farm, now Anything Grows Farm. 
You can help keep farmland in farming! Your gift will go right to work, providing New England's farmers with the education, guidance and support they need to secure or transfer farmland. 
Why give
We all have a stake in working farms. Since 2004, Land For Good has helped hundreds of farmers access farmland keeping thousands of acres of land in active farming. Entire communities benefit from increased farming opportunity, healthy lands, and a more secure food supply. Food security depends on farmer security. And farmer security requires land security.
When you join with us to tackle farmland access and transfer, you're making a critical investment in local farming, rural communities, working landscapes, and our regional food system. Your support helps us directly assist thousands of farmers, farm families, landowners and communities every year. At the same time we work to change the wider system by educating and connecting other professionals, collaborating across sectors and geographies, conducting policy research and advocacy. Only then will we generate wider access and control over farmland that farmers need to grow farming opportunity, and contribute to land stewardship and food security in our region.
If you believe that farming and land stewardship are vital to New England's future, then join with us. As a not-for-profit charitable organization supported by grants, donations and fees, we rely on supporters like you to get more farmers on more land – and keep land in farming.
Please give what you can. Every donation counts.
How to give
Online: Donate now via MightyCause. Make a one-time gift or become a subscribing donor by setting-up automatic, recurring donations.
Mail: Mail your check (payable to "Land For Good") to PO Box 625, Keene NH 03431. To provide additional instructions or pay by credit card, please download, print and mail your completed Donation Form.
Phone: If you have questions or would like to donate by credit card, call us at 603.357.1600. If you reach our voice mail, please leave a message and phone number so that we can call you back to process your donation securely, or to answer any questions.
Matching gifts: Does your company have a matching gifts program? Many do so check out how you can increase the impact of your gift with the help of your employer. Contact your employer for a matching gift form and mail the completed form to us along with your donation.
Named gift: Celebrate a birthday, promotion at work or special accomplishment by making a named gift in someone's honor! A donation can be used to congratulate or honor special events or people in your life. We will notify the honored person with a card and your good wishes. Download our Donation Form and mail it in.
Questions? To discuss other giving options or to make donations in-kind, of stock or by bequest, please contact us directly by email or phone (603.357.1600).
Give with confidence
Land For Good is a tax-exempt, charitable organization under IRS Code Section 501(c)(3). Our tax ID number is 02-0530711 and your gifts are tax-deductible to the fullest extent allowed by law. Get our most recent federal tax filing (2020)
Our work is regularly reviewed, assessed and required to document that we meet the highest standards of public and fiscal accountability, and program cost-effectiveness. Download our most recent independent, annual Financial Review (2020)
Land For Good is proud to have a GuideStar Platinum Non-profit Profile. A GuideStar Seal of Transparency indicates that a nonprofit has provided key, up-to-date information in its profile to allow potential donors and funders to make educated decisions about the work they do to make the world a better place. We are proud to share our key metrics with the world and highlight the changes we're making. We want to give donors and funders an alternative to simplistic financial ratios to evaluate us. Check out our GuideStar profile, where you can also access our recent federal tax filings and financial reviews.