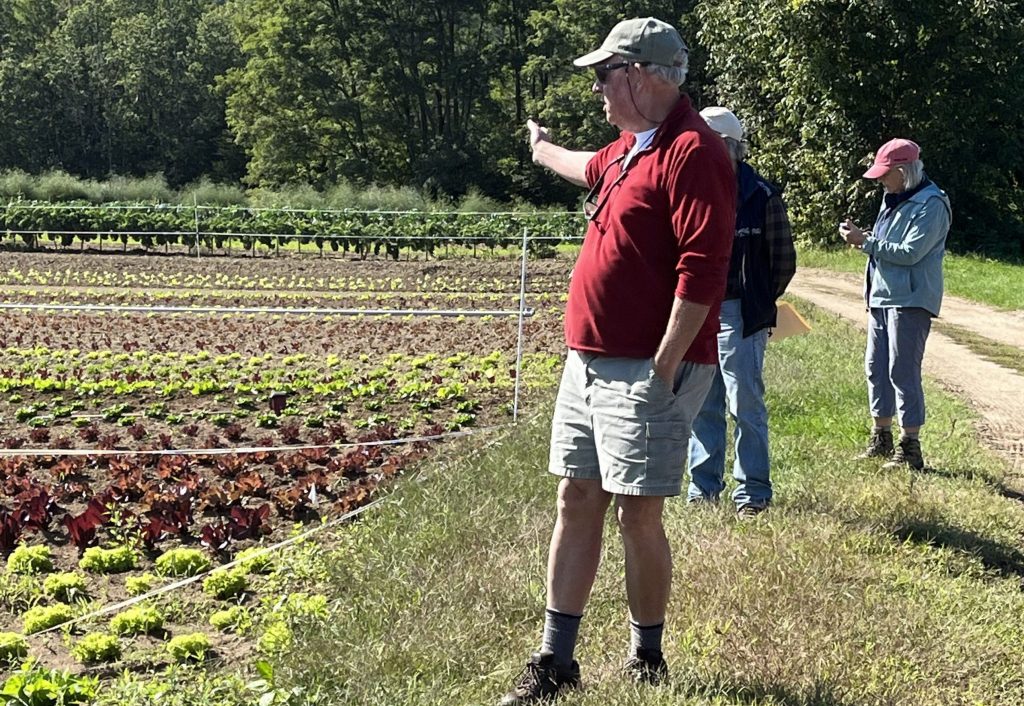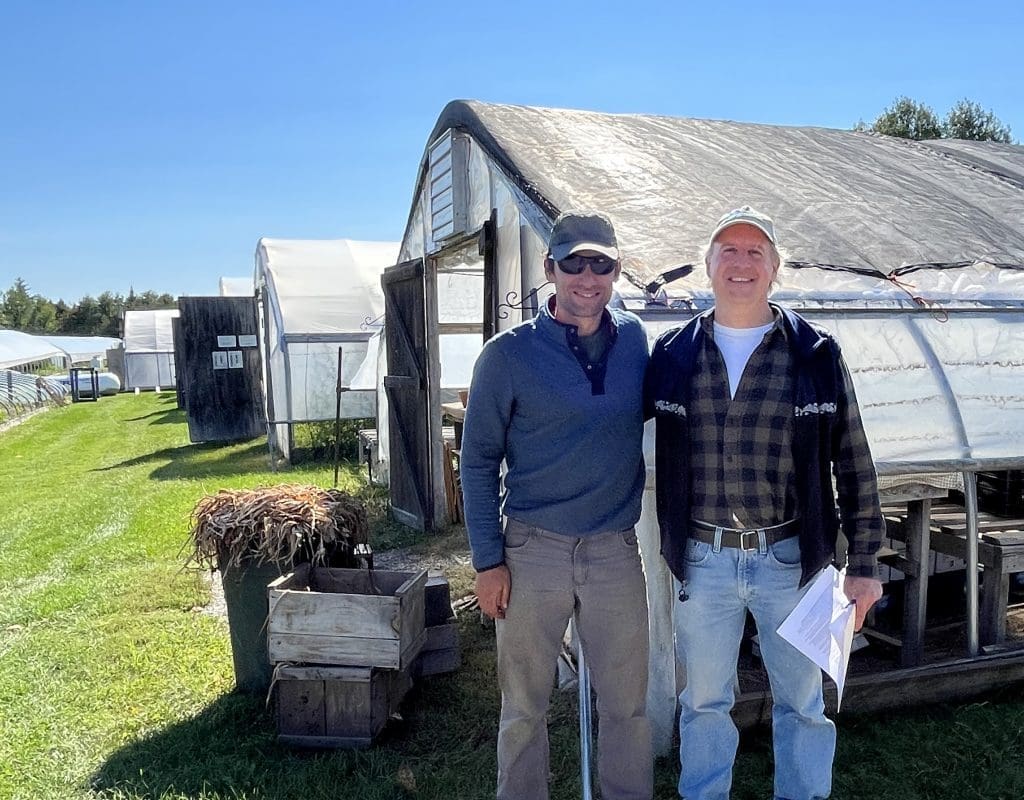 Tim and Janet Taylor, founders and former owners of Crossroad Farm, completed an intentional long-term transition plan with the help of Land For Good. Phil Mason, a long-time employee who knows and loves the farm, is the new farm owner.
With your support we'll keep more land in farming with successful farm transfers
Your support makes it possible for more New England farmers to receive our expert guidance to transfer their farm, keep active farmland in farming, and help an eager next generation of farmers get on land.
With 30% of New England's farmers over retirement age, thousands of farms are already changing hands and, without careful planning, at risk of being lost to development. Farmers looking to retire face uncertainty about the future of their farms because many lack a ready successor.
Farmers like Tim and Janet.
Tim and Janet Taylor, founders of Crossroad Farm in Fairlee, VT, started farming on one acre of land in 1980. With help from their immediate and extended family, the farm grew to 56 acres with 18 greenhouses. When Tim and Janet were approaching their 60's they started thinking about their future—and the future of their farm. They knew a farm transfer could take years to plan and complete. Rather than waiting until age or health forced the issue, they wanted to be deliberate and pursue transferring the farm as a turnkey business.
As a farm succession advisor, Mike Ghia, Land For Good's Vermont Field Agent and a farmer himself, helped Tim and Janet develop a sound farm transfer plan. He connected them with other advisors and facilitated conversations with farmers and key employees to identify a potential successor. Phil Mason, an employee on the farm for more than 10 years, expressed interest. Mike supported Tim and Janet and Phil's long-term goals. Together they structured a farm transition with a plan for a gradual transfer.
Mike was terrific in getting us going on it and getting us focused and thinking about everything that needed to happen," recalled Tim. "Having patience with us over the years. Mike checked back regularly with us and worked with us when we were ready."
After 12 years of planning, the farm transfer was complete this summer (July 2022). To look back on the gradual and intentional transition, Tim and Janet consider it an amazing success story and acknowledged the help from Land For Good and others. Phil also expressed gratitude for the support and guidance along the way, particularly that the long-term plan worked out the way that it did.
With your help, Land For Good can support more farmers like Tim and Janet, provide new opportunities to farmers like Phil, and keep active farmland in farming for years to come. 
Why give
We all have a stake in working farms. Since 2004, Land For Good has helped hundreds of farmers access farmland keeping thousands of acres of land in active farming. Entire communities benefit from increased farming opportunity, healthy lands, and a more secure food supply. Food security depends on farmer security. And farmer security requires land security.
When you join with us to tackle farmland access and transfer, you're making a critical investment in local farming, rural communities, working landscapes, and our regional food system. Your support helps us directly assist thousands of farmers, farm families, landowners and communities every year. At the same time we work to change the wider system by educating and connecting other professionals, collaborating across sectors and geographies, conducting policy research and advocacy. Only then will we generate wider access and control over farmland that farmers need grow farming opportunity, and contribute to land stewardship and food security in our region.
If you believe that farming and land stewardship are vital to New England's future, then join with us. As a not-for-profit charitable organization supported by grants, donations and fees, we rely on supporters like you to get more farmers on more land – and keep land in farming.
Please give what you can. Every donation counts.
How to give
Online: Donate now via MightyCause. Make a one-time gift or become a subscribing donor by setting-up automatic, recurring donations.
Mail: Mail your check (payable to "Land For Good") to PO Box 625, Keene NH 03431. To provide additional instructions or pay by credit card, please download, print and mail your completed Donation Form.
Phone: If you have questions or would like to donate by credit card, call us at 603.357.1600. If you reach our voice mail, please leave a message and phone number so that we can call you back to process your donation securely, or to answer any questions.
Matching gifts: Does your company have a matching gifts program? Many do so check out how you can increase the impact of your gift with the help of your employer. Contact your employer for a matching gift form and mail the completed form to us along with your donation.
Named gift: Celebrate a birthday, promotion at work or special accomplishment by making a named gift in someone's honor! A donation can be used to congratulate or honor special events or people in your life. We will notify the honored person with a card and your good wishes. Download our Donation Form and mail it in.
Questions? To discuss other giving options or to make donations in-kind, of stock or by bequest, please contact us directly by email or phone (603.357.1600).
Give with confidence
Land For Good is a tax-exempt, charitable organization under IRS Code Section 501(c)(3). Our tax ID number is 02-0530711 and your gifts are tax-deductible to the fullest extent allowed by law. Get our most recent federal tax filing (2020)
Our work is regularly reviewed, assessed and required to document that we meet the highest standards of public and fiscal accountability, and program cost-effectiveness. Download our most recent independent, annual Financial Review (2020)
Land For Good is proud to have a GuideStar Platinum Non-profit Profile. A GuideStar Seal of Transparency indicates that a nonprofit has provided key, up-to-date information in its profile to allow potential donors and funders to make educated decisions about the work they do to make the world a better place. We are proud to share our key metrics with the world and highlight the changes we're making. We want to give donors and funders an alternative to simplistic financial ratios to evaluate us. Check out our GuideStar profile, where you can also access our recent federal tax filings and financial reviews.