Your gift today will help us help more farmers like Cara & Michael.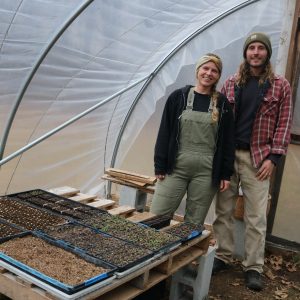 photo credit Monica Busch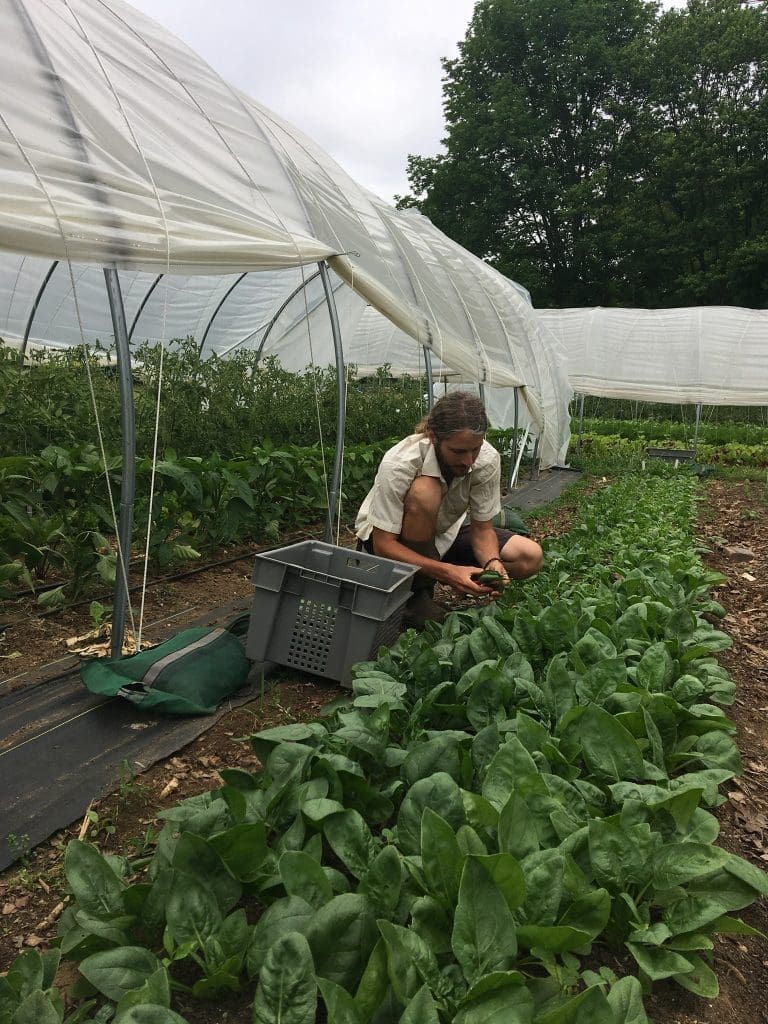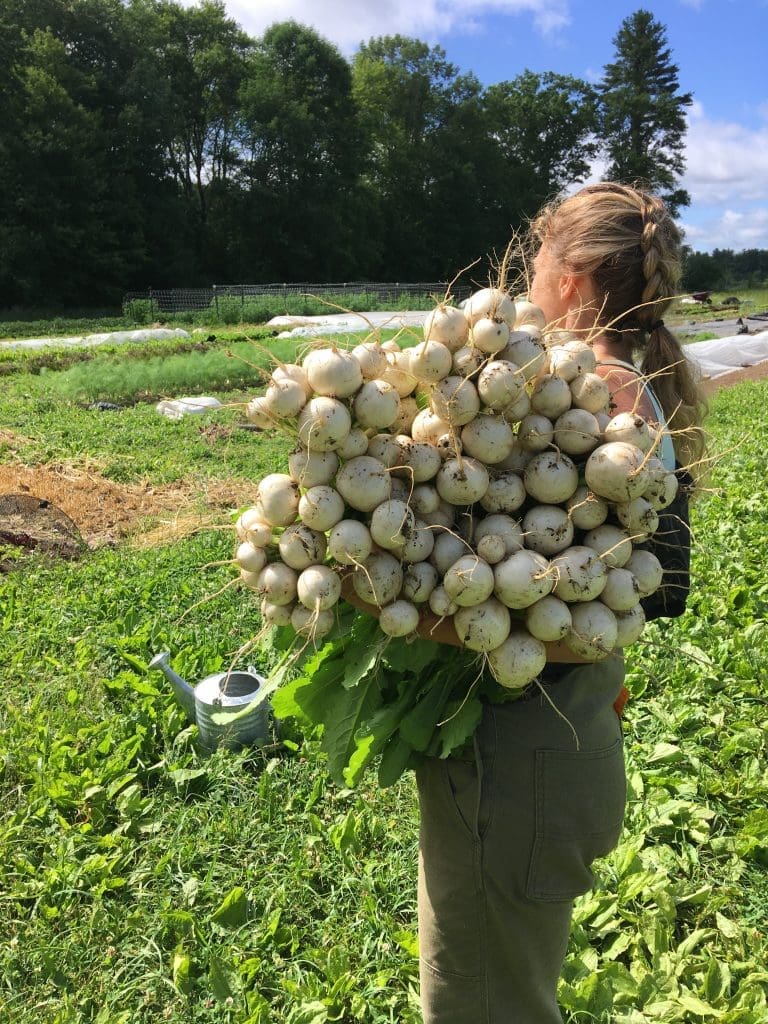 Cara & Michael run a small organic farm growing diverse vegetable crops, herbs & flowers for their community in Central Massachusetts on leased land we helped them find and secure. Photo credit Free Living Farm
Your support remains critical to our ongoing work with farmers and farm families—work that also keeps farmland in farming. The challenges of the pandemic continue to pose threats to the security of our food system and growth of farming opportunity.
Farmers are again planning in the face of much uncertainty. Will they see last year's high demand directly from consumers? The pandemic has prompted many older farmers thinking about retirement to advance their plans to keep their farmland in farming for the next generation of farmers. Beginning farmers and those who want to grow their businesses confront many barriers – finding secure access to land is the top barrier for this new generation of farmers looking to gain ground.
Farmers like Cara & Michael. 
Free Living Farm owners Cara Germain and Michael Zueger run a small organic farm growing diverse vegetable crops, herbs, and flowers for their community in Central Massachusetts on leased land we helped them find and secure.
Cara and Michael connected with a landowner through New England Farmland Finder, a farmland listing and linking website that LFG established and manages with a collaborative of partners. The site helps connect farm seekers to available farm properties, resources and services, and in this case, a referral to our field agent in Massachusetts who provided critical technical assistance.
"We first asked a neighbor if we could use part of his hay field, and he was willing to have us farm there; however there was no housing, water, or electricity," recalled Cara. "We checked off what we were looking for on New England Farmland Finder, and one day the perfect property was emailed to us. We connected with the landowners, had a few interviews, and eventually they chose us to farm their land!"
After last season's high demand for locally produced food, Cara and Michael seek to expand their business and need help searching for larger or additional farmland with secure, long-term tenure.
The biggest obstacle has been and continues to be the search for permanent land," shared Cara. "We are still leasing land, and we are very happy with the property and how our farm has grown by having access to leased land. However, we are held back in ways. We would love to invest in infrastructure, water and perennial crops however without knowing where we will be farming 5 years down the road, we do not want to make those big investments just yet."
Cara and Michael worked with Jae Silverman, our field agent in Massachusetts, to clarify their goals and objectives, improve their lease agreement, seek referrals, and draw on resources and expertise of our full team.
Jae was super knowledgeable, and I felt he had our best interest in mind," shared Cara. "Talking about what we are looking for when it comes to land helps get those feelers out as well as gives another set of ears and eyes the opportunity to help in your search."
Your support helps keep our regional food system secure. Our region's food security depends on the land security of our farmers. We must keep farmers on the land and expand opportunities for farming. Saving and supporting farms is key to rebuilding and strengthening our food system.
Please join with us and donate now.
Why give
We all have a stake in working farms. Since 2004, Land For Good has helped hundreds of farmers access farmland while thousands of acres of land have remained in active farming. Entire communities benefit from increased farming opportunity, healthy lands, and a more secure food supply. Food security depends on farmer security. And farmer security requires land security.
When you join with us to tackle farmland access and transfer, you're making a critical investment in local farming, rural communities, working landscapes, and our regional food system. Your support helps us directly assist thousands of farmers, farm families, landowners and communities every year. At the same time we work to change the wider system by educating and connecting other professionals, collaborating across sectors and geographies, conducting policy research and advocacy. Only then will we generate wider access and control over farmland that farmers need grow farming opportunity, and contribute to land stewardship and food security in our region.
If you believe that farming and land stewardship are vital to New England's future, then join with us. As a not-for-profit charitable organization supported by grants, donations and fees, we rely on supporters like you to get more farmers on more land – and keep land in farming.
Please give what you can. Every donation counts.
How to give
Online: Donate now via MightyCause. Make a one-time gift or become a subscribing donor by setting-up automatic, recurring donations.
Mail: Mail your check (payable to "Land For Good") to PO Box 625, Keene NH 03431. To provide additional instructions or pay by credit card, please download, print and mail your completed Donation Form.
Phone: If you have questions or would like to donate by credit card, call us at 603.357.1600. If you reach our voice mail, please leave a message and phone number so that we can call you back to process your donation securely, or to answer any questions.
Matching gifts: Does your company have a matching gifts program? Many do so check out how you can increase the impact of your gift with the help of your employer. Contact your employer for a matching gift form and mail the completed form to us along with your donation.
Named gift: Celebrate a birthday, promotion at work or special accomplishment by making a named gift in someone's honor! A donation can be used to congratulate or honor special events or people in your life. We will notify the honored person with a card and your good wishes. Download our Donation Form and mail it in.
Questions? To discuss other giving options or to make donations in-kind, of stock or by bequest, please contact us directly by email or phone (603.357.1600).
Give with confidence
Land For Good is a tax-exempt, charitable organization under IRS Code Section 501(c)(3). Our tax ID number is 02-0530711 and your gifts are tax-deductible to the fullest extent allowed by law. Get our most recent federal tax filing (2018 IRS Form 990)
Our work is regularly reviewed, assessed and required to document that we meet the highest standards of public and fiscal accountability, and program cost-effectiveness. Download our most recent independent Financial Review (2019).
Land For Good is proud to have a GuideStar Platinum Non-profit Profile. A GuideStar Seal of Transparency indicates that a nonprofit has provided key, up-to-date information in its profile to allow potential donors and funders to make educated decisions about the work they do to make the world a better place. We are proud to share our key metrics with the world and highlight the changes we're making. We want to give donors and funders an alternative to simplistic financial ratios to evaluate us. Check out our GuideStar profile, where you can also access our recent federal tax filings and financial reviews.
We value your support!