Check out our 2018-2019 Farm Succession School dates!
Farmers age 65 and older own or manage nearly one-third of New England's farms—and 9 out of 10 of them do not have a young farm operator working alongside them. What will be needed to keep this land in farming? Planning is the first step.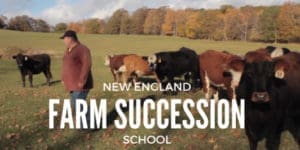 Most senior farmers want to see their land remain in farming. So a Farm Succession School is coming to New England for farmers looking for a bit of structure and motivation to tackle succession planning—one of a farmer's biggest challenges. Farmers can get help planning for their farm business, farmland, and retirement with
tools and advice that enables them to take next steps.
A recent study, Gaining Insights, Gaining Access, conducted by American Farmland Trust and Land For Good, shed new light on what will be needed to facilitate the transition of farms and farmland in New England to a next generation of farmers. At no point is a farm's future more at risk than during this transition. 92% of New England's 10,369 senior farmers do not have a farm operator under age 45 working with them. While it does not mean that these farmers don't have a succession plan, it suggests that the future of many of these farms is uncertain.
Based on focus groups with farmers, the study documents that older farmers are concerned about retirement; especially those farmers without a next generation farmer or owner to take over. Farmers are also unsure about how to find a younger farmer who can afford to buy their land. Many also want help to make sound transfer agreements. The Farm Succession School is designed for these senior farmers and farm couples looking toward retirement and farm transition.
The Farm Succession School, sponsored by Land For Good, is a three-session program that is open to farmers in all New England states.
2016 registration is now closed.

Read more:
Gaining Insights, Gaining Access study and findings
Farm Succession School flyer
The Land Access Project is funded by the USDA National Institute of Food and Agriculture through its Beginning Farmer and Rancher Development Program, Grant # 2015-04544. The project is directed by Land For Good in partnership with over 40 collaborating organizations, agencies and individual experts in six New England states.