The need to connect farm seekers with transitioning farmers and non-farming landowners is greater than ever. All farm link programs work to help beginning farmers, other farm seekers, and farmland owners connect with each other and related resources. They serve beginning and established farmers of all kinds, farming and non-farming landowners, and transitioning or retiring farmers. Some programs also work with public, institutional and organizational landowners such as towns, conservation groups and schools.
Nationally, over fifty programs deliver "farm link" services of various descriptions. Most manage property posting websites. Some facilitate transactions between parties. Many also provide educational activities and resources, and several include property assessment, farm succession advising, and beginning farmer training.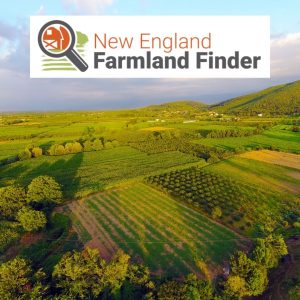 New England Farmland Finder (NEFF) is a free posting site for properties for sale or lease to help farm seekers and farm property holders across New England find each other. With over 4,400 subscribed farm seekers and 93,000 users (2020), it is the region's #1 farm linking website. Looking for farmland? You can register to get alerts of new property postings, find resources, and browse a searchable database of properties in New England. Want to lease or sell your land to a farmer? Landowners or their representatives can post properties at no charge and easily target thousands of farm seekers. Learn how to create an effective property posting that gets more views by farmers and access other resources. 
This site is invaluable–especially for farmers looking for property who might not be prone to knocking on my door. Thank you!" shared Judy, a landowner.

We are about to enter our first trial year with successors found on NEFF. Looking forward to a long and positive relationship with the young farmers who will take over our farm," shared retiring farmers.
This farm link program is managed by the New England Farm Link Collaborative (NEFLC). Through cross-postings of farm opportunities, referrals to specialists, joint educational programming and collaborative outreach, NEFLC service providers build awareness, readiness and connections among farm seekers, farmers and landowners of all types in all New England states. The New England Farm Link Program Guide explains and compares our region's farm link programs that help connect farm seekers and farmland owners interested in putting or keeping land in active farming. The Collaborative includes Connecticut Farm Link, Maine Farm Link, Land For Good  and Vermont Land Link. Each member provides a range of services all aimed at one common goal: to help New England's farm seekers and landowners connect.
For practitioners and advocates: So many great tips and connections came out of the first-ever national Farm Link Clinic (April 2019), organized by Land For Good and involving participants from 26 of the 50-plus programs we identified nationally. We've compiled lessons and successful practices into a helpful guide for practitioners and advocates, Developing and Strengthening Farm Link Programs (or print version).
More about farm linking in our region
Farm linking programs beyond New England